Your Sense of Peace…Their Sense of Purpose
The Therapy & Learning Center Adult Day Services in West Tennessee specializes in day services for adults with special needs ranging from moderately independent to those with total care needs. The Center offers a full range of activities for adults with varying abilities to provide each individual with an enhanced, purpose-filled life.
Our day services program is for adults, 21 years and over, and runs each weekday from 8 a.m. to 3 p.m.; although you are welcome to arrive and depart at any time during those hours. This program is available for physically and/or intellectually disabled adults who qualify for services through the Tennessee CHOICES Program, or who desire to private pay for the services needed.
Professional Services with Personalized Care
Personal Care Training
Physical Therapy, Occupational Therapy, and Speech Therapy
Licensed Nurses – overseeing each client's medical needs & overall health
Food & Nutrition Manager – preparing meals tailored for individual dietary needs
Daily Therapeutic Positioning
Individually Designed Cognitive Activities – promoting physical and mental stimulation
Job Skills Training – for those interested in in fully integrated employment
Life Skills Classes – for those desiring more daily independence
Wheelchair Maintenance & Orthotics Clinics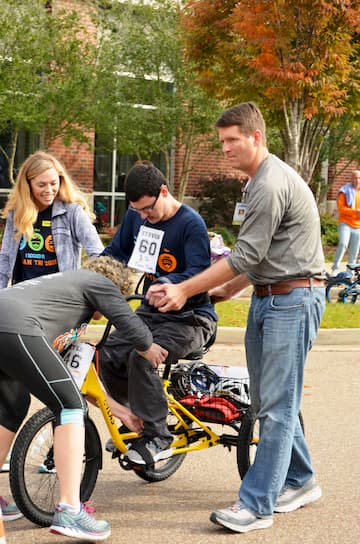 For an idea of a typical day in our Adult Day Services Program, please see the side link to "A Day In the Life." Once there, we are sure you will find many exciting elements in our program that will not only suit your loved one's needs, but will also suit his or her unique interests. Our mission at the Therapy & Learning Center Adult Day Services is to provide each individual with daily choices on activities that provide a well-rounded, purpose-filled life.
Participants for the Adult Day Services Program should be approved for the Medicaid Waiver through the CHOICES program provided by their TennCare MCO and should have already been assigned to a Care Coordinator prior to entering the program. We also have private pay options available for those not qualifying for CHOICES.
For more information, please contact our Adult Program Manager, Heidi Stockdale, at heidi.stockdale@wth.org or at 731-541-1430.
---
Adult Day Program Application
We are grateful for your interest in our Adult Day Program! We hope you will find our adults receive high-quality care and attention for their physical and medical needs, but most importantly, also receive the compassion and encouragement needed for their emotional and social well-being.
Our adults have a full day specifically planned to cater to their individuality each day from 8 a.m. – 3 p.m. These activities vary from sessions in our sensory room, bingo and Wii tournaments, monthly outings, exercise time, painting classes or cooking classes just to name a few.  We would love to meet you and give you a personal tour of our newly renovated facility.
We will just need a couple of things from you. Please take time to fill out the Adult Application, which can be completed online, or downloaded and returned to us via mail, email, or fax.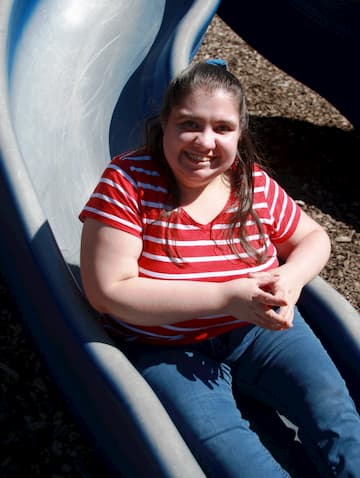 Application for Adult Services

By Email
Application for Adult Services.doc
Send to: heidi.stockdale@wth.org

By Mail
Click here to download the pdf
Therapy & Learning Center
32 Conrad Drive
Jackson, TN  38305 
By Fax
Application for Adult Services
Fax to: 731-541-2941
Attention: Heidi Stockdale
If you have any further questions or concerns, please call 731-541-1430.
---
A Day in the Life of Adult Day Services
We encourage participants to engage in activities of their choice modifying the activity based on the abilities of each individual.  Some daily choices offered to our participants include: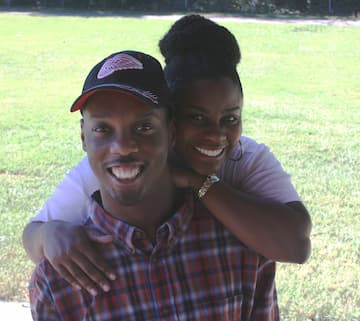 Art & Music Activities
Morning Exercise
Daily Living Skills Activities
Games & Tournaments
Themed Events
Social Skills Classes
Gardening & Outdoor Activities
Current Events Roundtable
Cooking & Nutrition Classes
Sensory Room Activities
"The staff at the Center's Adult Day Services are like family to us. They treat Ben like a friend, speak to him like he matters and push him to do more. They are great cheerleaders in promoting good health for my son and encourage him to keep moving."
– Louise (Mother to Ben who has been attending the Center since 2012)
A typical day in our Adult Day Services Program will look different for everyone involved. Since we provide day services ranging from total care needs to those who are moderately independent, a person's day can be tailored specifically to meet their needs and interests. For all our adults, our staff is prepared to assist with all aspects of care ranging from feeding, toileting, oral care, and therapeutic needs as well as engaging the person throughout the day in activities of their choice.
Also, because our adults' nutrition is important to us, we also provide breakfast and lunch catered to their dietary needs daily. We also provide physical therapy, occupational therapy, and speech therapy as ordered by the participant's physician. Our mission at the Therapy & Learning Center Adult Day Services is to provide each individual with daily choices on activities that not only meet their interests but provide a well-rounded, purpose-filled life.
---
Community Participation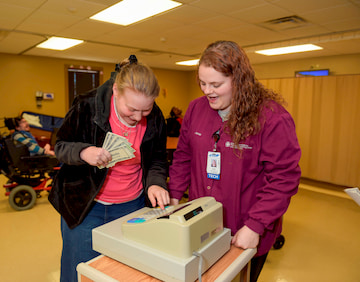 Involvement in our community is important to our program participants.  Our program is designed to offer participants opportunities to enjoy activities in the community each day. We believe this element of social interaction and community engagement adds to our participants' overall quality of life.  All while being under the watchful care of our staff, participants have the opportunity to:
Volunteer at local organizations
Enjoy dining experiences at restaurants
Attend sporting events
Experience local events and special attractions (Ex. plays, programs, or special festivals)
Additionally, we encourage the community to engage with our clients at the Center by providing activities like art & music therapy, games, performances, as well as visits and hands-on lessons from local artisans and craftsman. Community outings and interactions allow our participants a different and unique experience every day!
"If I couldn't come here I would be sitting at home bored all the time. This is my home away from home. These are my friends and where I belong."
– Courtney, adult participant at the Center for over 8 years
For more detailed information or to receive a personal tour of our facility,
please call 731-541-1430 or email heidi.stockdale@wth.org.
---
NONDISCRIMINATION NOTICE STATEMENT
West Tennessee Healthcare (WTH) does not exclude, deny benefits to, or otherwise discriminate against any person on the grounds of race, color, national origin, age, religion, disability, Limited English Proficiency or sex, including discrimination based on gender identity, sexual orientation, sex stereotyping or pregnancy in admission to, participation in, or receipt of the services and benefits under any of its programs and activities, whether carried out by WTH directly or through a contractor or any other entity with which WTH arranges to carry out its programs and activities.
For further information about this policy, contact Amy Garner (731) 541-9914.