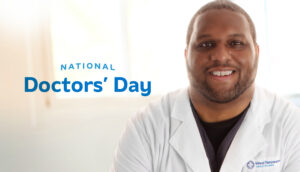 At West Tennessee Healthcare and The Foundation, we strive to improve the health and well-being of the communities we serve as well as providing exceptional and compassionate care.
Physicians play a vital role in helping us fulfill that mission. March 30 is National Doctor's Day, and we are honored to have over 375 of the best healthcare providers as our partners in improving our community. We invite you to join us this month in showing our gratitude to those who have dedicated their lives to their patients, families and those in our community.
While doctors deserve our gratitude every day, you can say 'thank you' today by making a gift in his or her honor to The Foundation's West Tennessee Healthcare fund. This tax deductible gift reflects your appreciation for the care poured into you, your loved ones, and your community each day.
For your donation, The Foundation will notify your doctor that a special gift has been made in his or her honor without disclosing the amount of your gift. Simply make your gift by completing the form below. As always, thank you for your generosity.