Support a Fund
Navigate through the categories below and select the fund you would like to support.  The selected fund will open a secure online donation form in which to make your gift.
Honor Someone
Trying to find a way to say "thank you" to someone special? Need a gift for someone who has everything? Want to celebrate a special occasion but unsure what type of gift is best?
Your gift to the Foundation is a great way to honor someone by giving to the fund of your choice in that person's name. The honoree(s) will receive a card from the Foundation notifying him or her of your gift. No monetary amount is shared with the honoree.
Remember Someone
Looking for a way to honor the memory of someone dear to you? A memorial gift allows you to remember this special person by giving to a cause they loved. The honoree's family will receive a card notifying them of your gift in their loved one's memory. No monetary amount is shared with the recipient.
Naming Opportunities
The Foundation has a variety of naming opportunities available through West Tennessee Healthcare and its affiliates. Naming opportunities include:
Chapel/Meditation room
Classroom
Conference room
Educational scholarships
Garden
Playground
Waiting room
Your naming gift can benefit affiliates and organizations such as:
Ayers Children's Medical Center
Jackson-Madison County General Hospital
Kirkland Cancer Center
Pathways
Therapy & Learning Center
West Tennessee Heart & Vascular Center
If you are interested in learning more about our naming opportunities, please contact Frank McMeen at (731) 984-2140.
---
Donor Advised Funds
A donor advised fund (DAF) is a convenient and flexible way for a donor to make gifts with the intent to distribute the gifts to qualified charitable organizations in the future.
The only requirement for a DAF is an initial gift of at least $5,000 and the completion of the DAF form. Gifts of cash, stock, real estate or any other appreciated assets may be used to establish a DAF. Once established, gifts of any size may be made to the DAF at any time in order to maximize the tax benefits of the donor.
How do I use a DAF?
Gifts are made only at the donor's discretion to the qualified recipient of the donor's choice.
How are gifts made through a DAF recognized by the receiving charity?
The donor(s) may remain anonymous or they may wish to publicize the gift. It is completely up to the donor's discretion. The Foundation will work with the donor to ensure his or her wishes are met.
The Kirklands and Taylors turned their PASSION INTO ACTION with a Donor Advised Fund.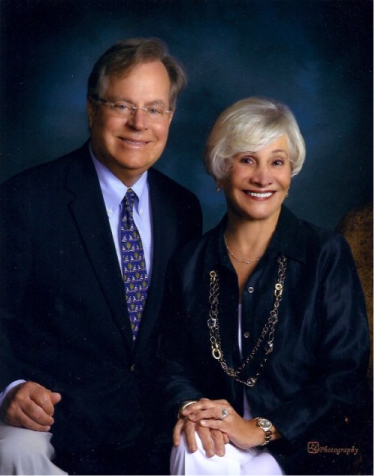 Alice and Carl Kirkland
With the transfer of a piece of property to the Foundation several years ago, Alice and I opened our Donor Advised Fund with the West Tennessee Healthcare Foundation. We have continued to give to it each year, and the staff handles the disbursements to the charities we support.
Glory to God Fund
"Ab and I have always tried to give back to the communities which have given us so much. With our Donor Advised Fund at the West Tennessee Healthcare Foundation, we are able to make donations to our fund and the staff disburses grants to our favorite charities throughout the year. This has been wonderful and simplifies our giving."

Elizabeth Taylor
If you are interested in starting a donor advised fund at the Foundation, please contact Beth Koffman at
(731) 984-2140 for more information.
Endowments and Estate Gifts
Do you have dreams of what your legacy will be? The Foundation can help you chart your legacy with an estate planning gift to support one or more causes that are dear to you.
Was your nonprofit blessed by a donor's generosity, and now you find yourself in the business of managing an endowment? We have an established track record and experience in managing long term assets, while making sure the fiduciary responsibilities are met.
We have been a trusted resource for local nonprofits for a number of years. These include the Ayers Children's Medical Center, Kirkland Cancer Center, The Girl Scouts, Tennessee Dental Association Foundation (TDAF), Association for the Preservation of Tennessee Antiquities (APTA), Jackson Symphony, Rotary/Youth Town, and many more. We know you are in the business of making sure those needs for which you were founded are met, so let us take care of the endowment management.