We are very proud to announce that Gregory E. Mitchell, M.D. has received the 2020 Doctor of the Year Award on behalf of the employees of Jackson-Madison County General Hospital. This prestigious award was presented by Dr. Jackie Taylor, Chief Physician Executive, during the Medical Executive Committee last night. Because of this honor, Dr. Mitchell will be recognized in various ways. He was presented with an award plaque and award certificates to frame last night. In addition, his name will be placed on a nameplate and added to the Doctor of the Year bronzed wall plaque in our hospital's Hall of Honor, as well as a framed picture and plaque that will be hung near the doctor's lounge. Please congratulate him when you see him!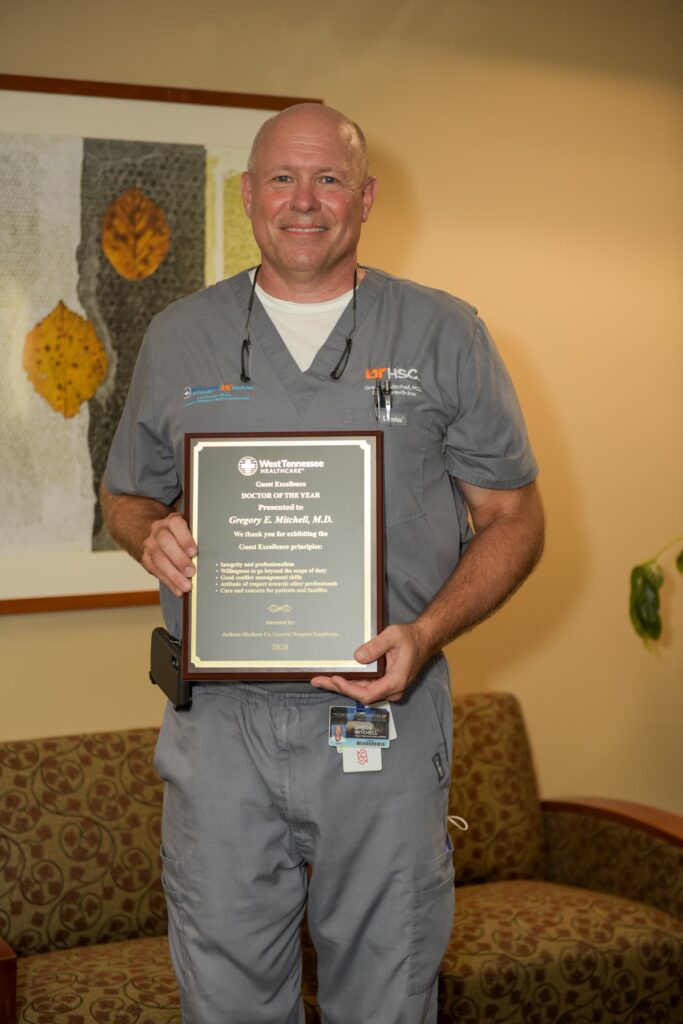 The Doctor of the Year award affirms Guest Excellence principles and honors physicians who exhibit these characteristics.  The nominations were judged on the following criteria:
Integrity and professionalism
Good conflict management skills
Willingness to go beyond the scope of duty
Attitude of respect for other healthcare professionals
Care and concern for patients and families.
 Here are some of the comments made concerning this worthy physician:
Not only does Dr. Mitchell perform his job at an exemplary level, he demonstrates an extraordinary commitment to the University of Tennessee Health Science Center for over 20 years; serving as chair of the local residency program and helping to retain a high number of physicians for the Jackson area.  He has one of the most insightful and influential minds when teaching and training new residents.  He is certainly a role model for future physicians in communication, conflict management, and respecting other professionals. 
He is a highly respected leader who challenges us to be the very best we can be.  Physicians, nurses, and other healthcare professionals eagerly seek his advice. He is a kind man with the very best skills and knowledge.  And he was a willingness to share his knowledge and skills more than any other physician I have ever known.
Dr. Mitchell takes the time to listen. This quality is missing in so many aspects of the healthcare field. He gives everyone a fair chance to voice an opinion without making you feel that what you have to say is not important. So many times, we as nurses are cut short.  Dr. Mitchell never gives you the impression that your insights do not matter. He stands behind his staff and trusts their abilities.  
I have personally seen him go beyond the scope of duty through his selfless acts of kindness by filling in during the absence of other leaders without receiving compensation.  He has also volunteered with the Kirkland Cancer Center, working with staff to administer chemotherapy and acting as an on-call physician when needed.  No matter how busy or how full his workload, he always has a smile or kind word for others. Even while on vacation he continues to do his responsibilities just because he does not want to inconvenience others.
His respect for nurses, staff, and other physicians' opinions is equal to none, and his decisions are made as a collaborative effort with only the patient's best interests in mind.  His style and demeanor allows everyone to feel like a valued member of a patient's healthcare team. He is simply the greatest!
Dr. Mitchell is the medical director for Cardiac Rehab.  He spends time listening to our needs to assure the patients are getting the care they deserve and adjusting treatment plans so that all patients benefit from the program, regardless of their limitations.
He has shown his excellent leadership by taking on numerous projects to help improve patient satisfaction scores.  He is helping Cardiac Rehab in a nationwide study to increase the utilization of Cardiac Rehab to 70% by 2020. He is always willing to help improve processes that will benefit patients.
Congratulations to Dr. Mitchell.  He joins the list of our former Doctor of the Year award recipients below:  
1999                       John A. Kendall, M.D.   
2000                       John Shaw, M.D.
2001                       Keith Williams, M.D.
2002                       E. Scott Yarbro, M.D.
2003                       Herbert L. Sutton, M.D.
2004                       Clyde Smith, M.D.        
2005                       David Curwen, M.D.
2006                       Michael A. Revelle, M.D.
2007                       David Laird, M.D.
2008                       Dean P. Currie, M.D.
2009                       Monico P. Banez, M.D.
2010                      John T. Matthews, M.D.
2011                       Karl E. Misulis, M.D.
2012                       Julie Antique, M.D.
2013                       J. Paul Gray, M.D.
2014                       Robert Gilroy, M.D.
2015                       Loran Karlosky, M.D.
2016                       John Neblett, Jr. M.D.                
2017                       Anastasious Georgiou, M.D.
2018                       Shawn Baldwin, M.D.
2019                       Vernessa Davis-Tharpe, M.D.