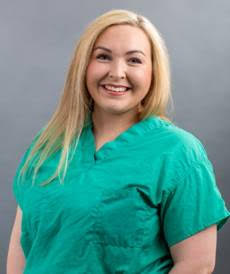 Recently we had a patient from out of state who transferred to the Jackson General ER.  Unfortunately, he passed away in the ER due to complications from COVID-19.  His family was unable to be with him because they live hours away.  Wanting to provide the family with a short visitation with the patient, I tried numerous ways to make that happen but kept running into technical issues.  Finally, I called MICU to see if they had any suggestions based on how they have dealt with end of life situations for COVID patients.
The person who answered the phone in MICU was very helpful and continued to search until she found someone who could help us.  Amber Majors, RN, took the time to bring an iPad, with ZOOM installed, to the ER where we were able to log in.  Amber then helped me explain to the family how to download, create an account, and call in for a video visitation with their loved one.  She continued to wait patiently in the ER as the family spent several minutes saying their goodbyes, wanting to be readily available in case there were any technical issues.
Amber was so kind that night, going above and beyond to help a family say their final goodbyes to their loved one.  She is definitely the type of nurse I would want taking care of my family in a time of need.  Thank you, Amber, for taking the time to help us out in the ER that night, and for helping this family receive some closure.
Hannah Lax Welch, RN
Jackson-Madison County General Hospital ER