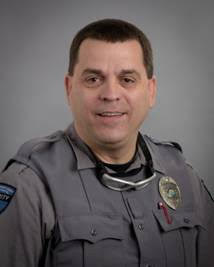 It was one of the first cold nights of the season when Roger Baker, Security Officer, was working the overnight shift in the ER at Jackson General. As he was making his rounds outside, he saw a young woman laying on the cold sidewalk, her mother standing by her.  The mother explained that her daughter was waiting to be seen in the ER, but was hurting too much to sit or stand in the waiting area.  When walking didn't help, she finally laid down on the sidewalk.  Lying down was the only thing that seemed to give her daughter any relief.
Roger could tell that the young woman was very uncomfortable and she needed to get out of the cold.  He told the patient and her mother that he could take them to a family room where they would have some privacy and the daughter would be able to lay down.
According to the patient's mother, "Roger Baker was a bright, shining angel in the midst of a painful medical crisis for my daughter."  Roger's own words best summed up the situation, "Sometimes you just have to do what you have to do to help a patient."  So true, Roger.  Thank you for letting your compassion guide your actions that night, bringing some relief to this patient and her very worried mother!