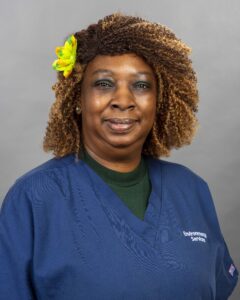 Recently I was providing lunch for the staff and physicians at the Wound Management Center at Jackson General when I realized I hadn't brought ice.  Remembering there was an ice machine behind the Medical Founders Room, I headed straight for it.
I was really struggling to position my cooler under the ice dispenser. Rochelle Boyd, EVS Tech, was cleaning that area.  She saw what was happening and quickly stopped to assist me with the cooler and ice. Once the cooler was full of ice, it proved to be too heavy for me to carry a long distance. Rochelle did not hesitate to rearrange the items on her cart to make room for my cooler. She then insisted on rolling the heavy cooler all the way back to the Wound Management Center, which was clearly out of her way.
That day Rochelle demonstrated the true meaning of teamwork and certainly went above and beyond her "duties" to lend a much appreciated, helping hand!! Rochelle has the sweetest spirit and definitely goes the EXTRA MILE!
Tina B. Martin, PTA
Area VP of Sales for West Tennessee
Medical Center Home Health/LLC