Comprehensive rehabilitation can offer patients care to maximize wellness, improve current daily living situations, or prevent declines in function. Sports Plus Rehab Centers offers comprehensive rehabilitation teams to help keep patients functioning at their best and to get them back into action. Lana Hoke, OTR/L, program manager at Sports Plus Milan, shares what makes up a comprehensive rehabilitation team and the types of therapies involved.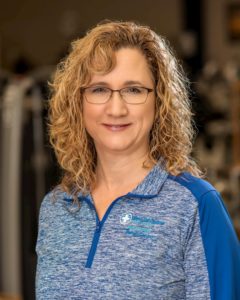 What can a comprehensive rehabilitation team do for you?
A comprehensive rehabilitation team in outpatient therapy usually consists of physical therapy, or PT, occupational therapy, or OT, and speech language pathology, or SLP, more commonly known as speech therapy. These three disciplines work together to improve the quality of life for patients whose lives have been affected by illness, injuries or disabilities, or simply those who wish to improve their current abilities or prevent a decline in their function.
Each member of the rehab team completes his or her own initial evaluation, which consists of medical history questions and current abilities, and therapy-specific testing. Working with the patient, the therapists determine goals for treatment and specific plans to help the patients reach their goals. When patients are receiving all three therapies in one location, therapists can collaborate with each other so that the therapies compliment one another.
What is physical therapy and how can it benefit you?
A physical therapist is a licensed medical professional trained in diagnosing physical impairments, restoring or maintaining physical function and mobility, and promoting physical activity and improved health and well-being. Some of the common conditions a physical therapist may treat include musculoskeletal dysfunction such as neck/back pain, rotator cuff issues, and TMJ (or temporomandibular joint) disorders; neurological conditions such as stroke, Parkinson's Disease, spinal cord injuries, and traumatic brain injuries; sports related injuries such as ligament tears/sprains and fractures; and pelvic floor dysfunctions for both males and females. 
The benefits of physical therapy may include avoiding surgery, recovery from paralysis, recovery from injury, pain management with a reduction in the need for opioids, improved balance and decreased risk for falls, or even improving abilities/preventing injury with a sport or leisure activity.
What is occupational therapy and how can it benefit you?
An occupational therapist is a licensed medical professional trained in assessing physical and cognitive abilities and how they affect their patients' abilities to participate in their everyday activities (or "occupations".) Examples of "occupations" range from basic activities such as eating and dressing to more complicated activities such as cooking, managing a home, returning to work/school, or participating in a sport. Some occupational therapists specialize in the treatment of problems of the upper extremity (shoulder, elbow, wrist and hand.) These types of patients may include those with broken bones, tendinitis, arthritis, or those who have suffered a stroke, leaving them unable to use their arm to complete their everyday activities. Occupational therapists, like physical therapists, may also treat those with other musculoskeletal injuries and neurological conditions. 
The benefits of occupational therapy may include learning new ways of completing activities to decrease or prevent pain/injury (thus avoiding surgery), recovering the ability to use an injured body part through exercise and other therapeutic techniques, and regaining independence with daily "occupations."
What is speech therapy and how can it benefit you?
A speech-language pathologist (or speech therapist) is a licensed medical professional trained in assessing patients' ability to swallow and to communicate, including both speaking and thinking skills. Some common conditions that may be treated by a speech therapist include CVA (or stroke), traumatic brain injuries, and other neurological conditions such as Parkinson's disease. 
The benefits of speech therapy may include improved verbal and nonverbal communication, increased ability to swallow safely, and improved cognition (ability to problem solve) for improved safety within their environment. 
Speech therapy can also benefit singers with voice and performance deficits; like athletes, singers can also be prone to injuries, overwork, and get sick. 
Working Together to Provide Comprehensive Care
To provide a specific example of how PT, OT, and SLPs work together as a comprehensive rehabilitation team, let's look at how they would collaborate to treat a person after having a stroke. Many times, a stroke (or CVA) will cause a person to have difficulty moving one side of their body, difficulty communicating, difficulty with their vision and difficulty swallowing. A physical therapist would address the patient's overall balance, as well as the movement and strength of their legs. They would also work on their ability to move from one place to the other (for example standing up from sitting) and their ability to walk safely. 
The occupational therapist would address the patient's movement and strength of their arm/hand and provide him or her with any needed splints or devices to help him or her be able to care for themselves independently. They would also address any visual problems and teach the patient ways to compensate for any impairment that doesn't improve. 
A speech therapist will work with the patient to improve the ability to communicate his or her needs, either through training him or her to verbally communicate better or to use communication devices. They will also work with the patient on swallowing techniques so that he or she can eat safely.
If you're looking for physical, occupational or speech therapy, Sports Plus Rehab Centers offer comprehensive care. With 14 clinics across west Tennessee, Sports Plus is conveniently located close to you.