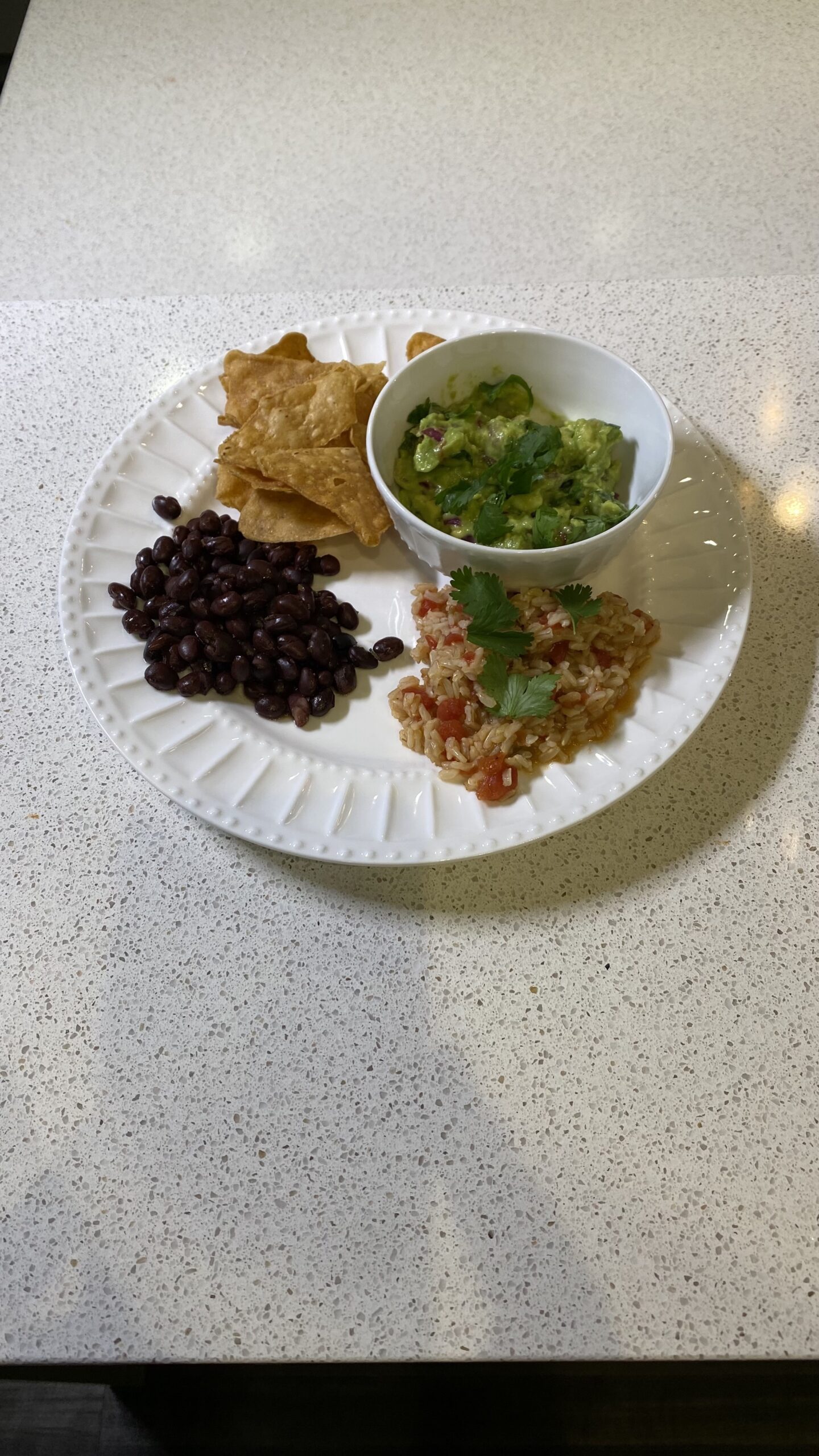 Spanish Brown Rice Recipe
Time
Prep: 20 minutes
Cook: 12 minutes
Total Time: 32 minutes
Servings: 4
Calories/Serving: 574kcal
Ingredients
1 Tablespoon olive oil
¼ onion chopped
1 garlic clove
14.5 ounces diced tomatoes with green chilies
¼ cup tomato sauce
1 teaspoon cumin
½ teaspoon chili powder
½ teaspoon salt
½ teaspoon pepper
3 cups brown rice
½ cup chicken broth
Instructions
Heat olive oil in a large skillet over medium heat.
Sauté onion and garlic in oil until onions cook through.
Stir in diced tomatoes, tomato sauce, cumin, chili powder, salt and
pepper. Stir to combine flavors.
Gently stir in rice until coated in mixture.
Mix in chicken broth and cover skillet.
Reduce heat to low and let cook for 5 minutes.
Uncover and stir one more time before serving. Liquid should all
be absorbed.
Nutrition
Calories: 574kcal | Carbohydrates: 114g | Protein: 12g | Fat: 8g |
Saturated Fat: 1g | Sodium: 500mg | Potassium: 670mg | Fiber: 6g |
Sugar: 3g | Vitamin A: 269IU | Vitamin C: 13mg | Calcium: 91mg | Iron:
4mg
Quick Cuban Style Black Beans
Time
Prep Time: 5 minutes
Cook Time: 25 minutes
Total Time: 30 minutes
Servings: 6
Calories/Serving: 173kcal
Ingredients
2 (15 ounce) cans Black Beans, do not drain
2 tablespoons Extra Virgin Olive Oil
1 tablespoon Red Wine Vinegar
½ teaspoon Garlic Powder
½ teaspoon Dried Oregano
¼ teaspoon Onion Powder
¼ teaspoon Salt
¼ teaspoon Black Pepper
⅛ teaspoon Cumin
Notes
If the beans are too watery, uncover the saucepan and let them simmer for a few
minutes to allow some of the liquid to cook away. Stir the beans often, especially as
they start to thicken. If the beans are too thick add 1 tablespoon of water at a time,
stirring in between each addition until they reach the desired consistency and warm
through.
Instructions
1. Add the black beans with the liquid (do not drain) to a saucepan.
2. Add the olive oil, vinegar, garlic powder, oregano, onion powder, salt,
pepper and cumin to the saucepan. Stir well until combined.
3. Cover the saucepan and bring the black beans to a simmer over
medium heat.
4. When they start to simmer, lower the heat to medium-low and cook
for
20 minutes to allow the flavors to come together.
5. Keep the beans at a simmer, lower the heat if necessary. Stir
occasionally to prevent them from sticking to the bottom of the pan,
especially as they thicken.
6. Serve the beans with white rice, if desired.
Nutrition
Calories: 173kcal | Carbohydrates: 24g | Protein: 9g | Fat: 5g |
Saturated Fat: 1g | Sodium: 642mg | Potassium: 449mg | Fiber: 10g |
Sugar: 1g | Vitamin A: 66IU | Vitamin C: 5mg | Calcium: 55mg | Iron:
3mg
Guacamole
Time
Prep: 15 minutes
Total Time: 20 minutes
Ingredients
4 avocados, seeded
¼ to ½ of a red onion, chopped
1 jalapeno, seeded & diced *optional
2 tomatoes, seeded & chopped
½ cup cilantro
1/3 cup salsa *optional
½ tsp salt
2 limes, juiced
2 garlic cloves, diced
½ tsp garlic salt
Tortilla chips *recommend Simple Truth Organic Sweet Potato tortilla
chips
Instructions
Roughly mix all ingredients to desired consistency.
Serve with tortilla chips.