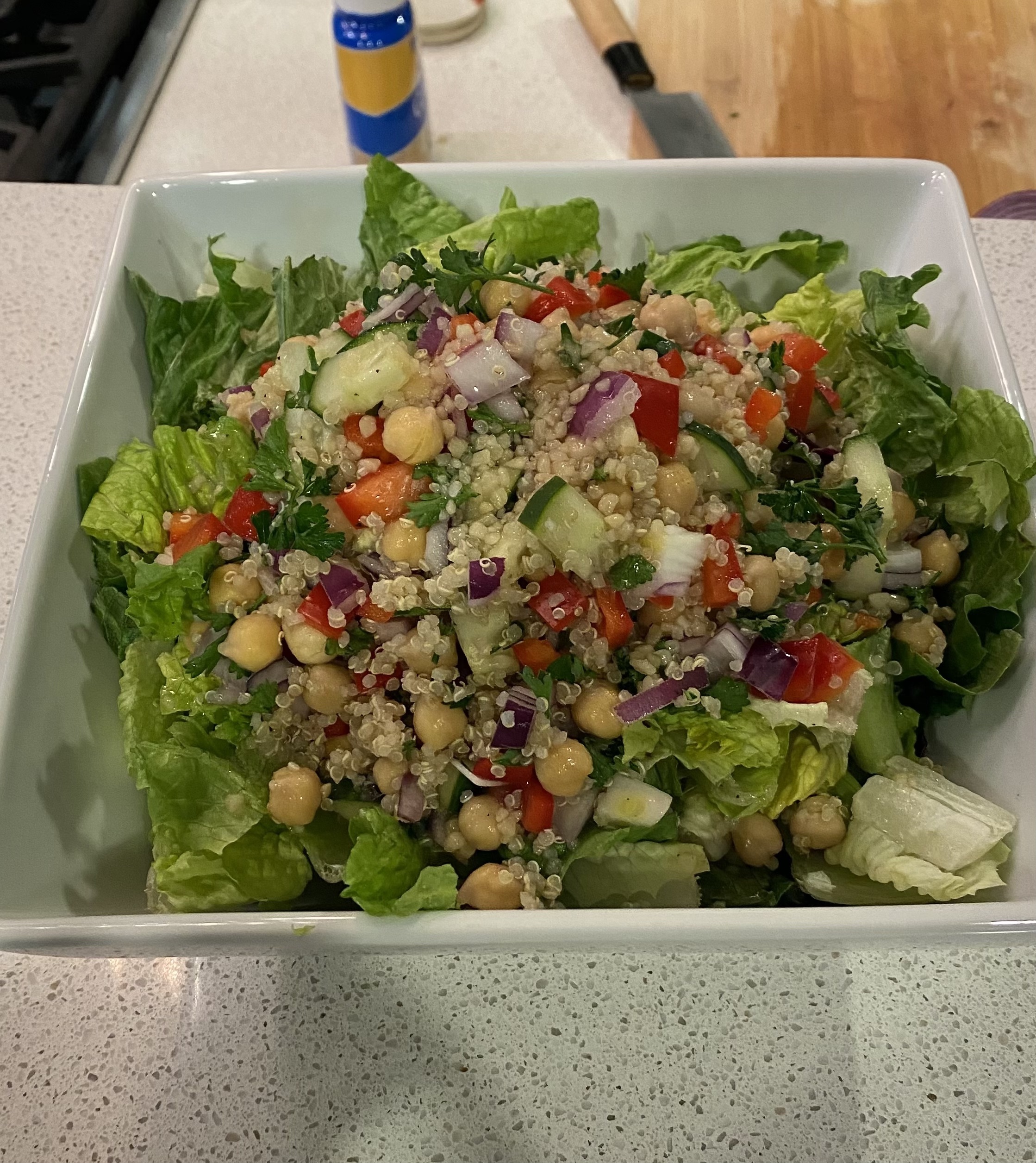 Ingredients:
1 cup uncooked quinoa, rinsed and drained
2 cups water
1 can (15 ounces) Chickpeas drained and rinsed
1 cucumber chopped (leave the skin on)
1 Red Bell Pepper diced and seeds removed
½ cup chopped red onion
1 bunch of fresh parsley finely chopped
1 bag of Mixed Greens or Romaine Lettuce
Dressing:
¼ cup lemon juice (from 2-3 lemons)
1 tablespoon red wine vinegar
1 tablespoon minced garlic Salt and Pepper to taste
Directions: 
To cook the Quinoa: (best if made ahead and served cold)
Place 1 cup Quinoa in 2 cups of water in a saucepan and bring to a boil over medium-high heat.
Once boiling, reduce heat and simmer gently for 15 minutes or until all of the water has been absorbed.
Remove from heat and cover. Let the Quinoa rest for 5 minutes.
Combine the Chickpeas, Cucumber, Bell Pepper, Onion, and Parsley and set aside. Add the Quinoa to the mixture and combine.
To mix the dressing use a mason jar with a lid. Combine the Lemon Juice, Red Wine Vinegar, Garlic and Salt and Pepper in the jar. Place lid on jar and shake the mixture until well mixed.
In a large bowl place the bag of mixed green or romaine lettuce. Add the Quinoa mixture to the top.
Next drizzle the dressing on top. Toss to mix well.
This salad keeps well in the refrigerator covered for 3 days.
Can also top with Feta Cheese to add extra flavor.