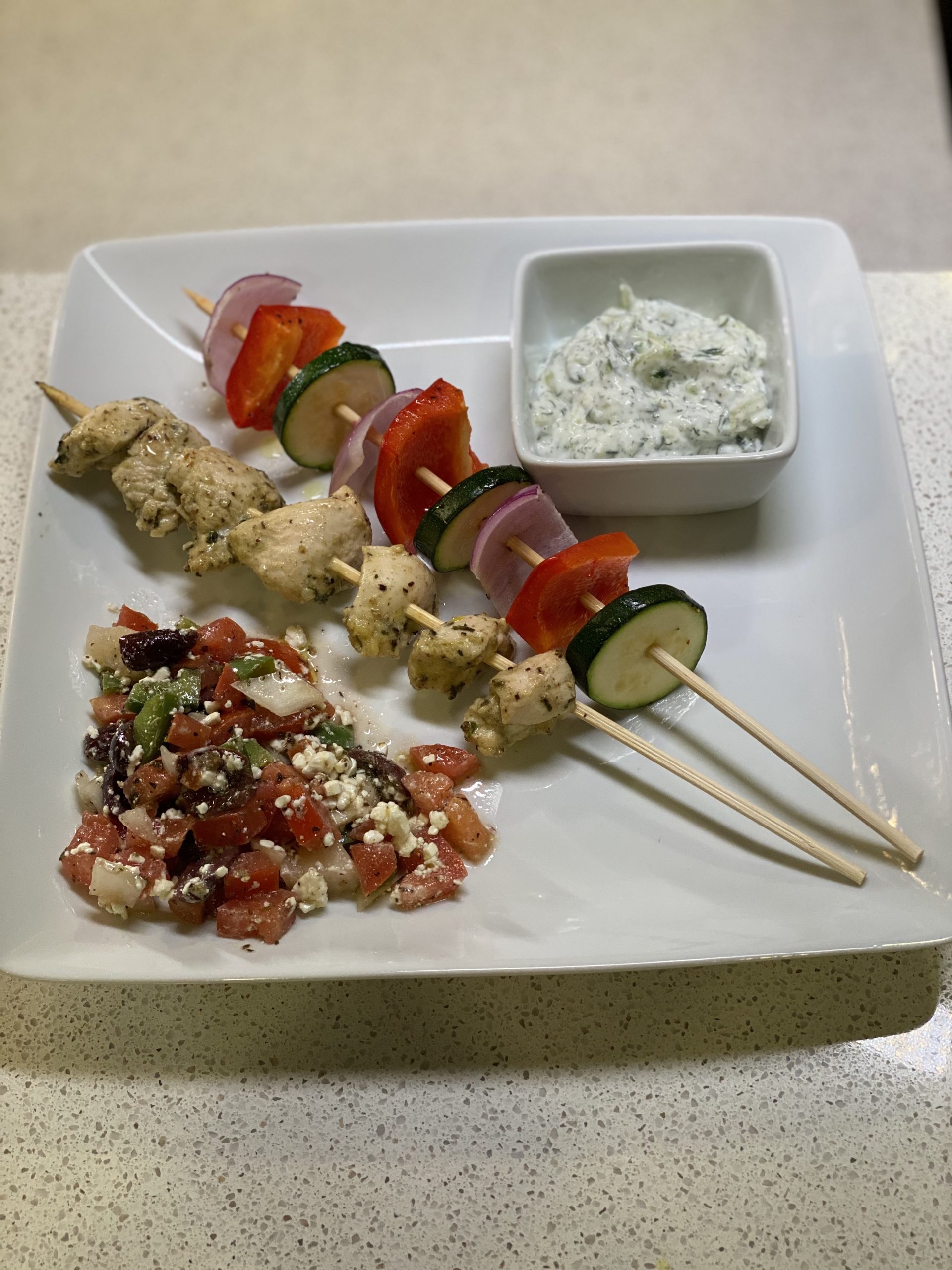 INGREDIENTS:
TZATZIKI SAUCE:
– 1 cup plain Greek yogurt
– 1 cucumber, shredded
– 2-3 cloves garlic, pressed through a garlic press (or finely minced)
– Salt and pepper to taste
– Squeeze of fresh lemon juice
– 1/2-1 tbsp dill
MARINADE:
– 4 cloves garlic, finely minced
– 2 tablespoons fresh lemon juice (from about 1 large lemon)
– 1 tablespoon red wine vinegar
– 2 tablespoons olive oil
– 2 tablespoons plain yogurt
– 1/2 teaspoon dried oregano
– 1/2 teaspoon dried basil
– 1/2 teaspoon dried thyme
– 1/2 teaspoon dried coriander
– 1/4 teaspoon pepper
CHICKEN AND VEGETABLES:
– 2 pounds boneless, skinless chicken breasts, cut into 1-inch pieces
– 1 zucchini, sliced
– 1-2 red peppers, cut into squares
– 1 red onion, cut into squares
INSTRUCTIONS:
1. If using wooden skewers, soak them for 15-20 minutes prior to assembling.
2. For the marinade, in a liquid measuring cup or small bowl, whisk together all the
marinade ingredients.
3. Place the chicken in a resealable gallon-size ziploc bag (or in a shallow dish) and
pour in the marinade. Seal the bag (or cover the dish) and let marinade for 1-2
hours.
4. For the tzatziki sauce, wrap the shredded cucumber in a kitchen towel and
squeeze to remove as much water as possible. Mix together the yogurt,
shredded cucumber, garlic, red wine vinegar, salt and pepper to taste, and lemon
juice. Drizzle lightly with olive oil. Refrigerate for at least 30 minutes before
serving to allow the flavors to blend.
5. Thread the chicken, zucchini, peppers and onion onto skewers. Give the kebabs
a little sprinkle with salt and pepper on both sides.
6. Grill over medium to medium-high heat until cooked through, about 2-3 minutes
per side.
7. Serve immediately with tzatziki sauce for dipping.
Stroke Prevention Nutrition Tips:
Nutrition therapy for stroke prevention is very similar to what we talked about in
February's episode about heart health! We encourage whole grains, fruits and veggies,
lean protein sources, and limiting our sodium intake. Though this information is
important for everyone, women make up 60% of all stroke cases, so this is especially
important for us!
Limit foods that are higher than 300mg sodium per serving. I think this recipe is
another example of how we can use herbs, spices, and foods like lemon to give
a lot of flavor without a lot of salt!
Eat fruits and vegetables that are high in potassium like zucchini, tomatoes,
sweet potatoes, or banana. Potassium can help reduce blood pressure, which
can reduce your risk of stroke.
Eat fat-free and low-fat dairy and protein sources. This dish kind of highlights that
by using the low fat greek yogurt (which contains more protein), and the chicken
breast. I use chicken a LOT in my recipes because I feel it's so versatile, but it's
still a great lean protein source.
Focus on fiber intake from fruits, veggies, and whole grains, especially soluble
fiber.
Recipe tips:
We want to soak the wooden skewers to prevent them from splintering in the food or
from burning if you are grilling them.
Tzatziki sauce: we want to squeeze as much water as we can out of the cucumber. It'll
help keep the sauce from separating out or having any liquid sitting on top. It will also
give it a less watered-down flavor.
Need a whole grain? Pairing this recipe with brown rice, or whole-grain pita chips can
really round out the meal!