Cancer affects millions of Americans each year. But the good news is that you can lower your risk in many cases by practicing healthy habits.
We hear about cancer all the time—and for good reason. The American Cancer Society estimated that 1.8 million new cases of cancer would be diagnosed in 2020. That includes more than 39,000 new cases in Tennessee alone.
In the midst of the COVID-19 pandemic, where we can often feel somewhat helpless about the health issues happening all around us, it's important to note you are still in control of your health in many ways.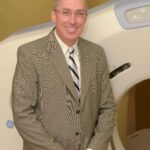 Your health habits can help set you up for success and optimal health. Living a healthy lifestyle is a key way to lower your risk of being diagnosed with cancer. 
Jeffrey Kovalic, MD, radiation oncologist with the Kirkland Cancer Center, offers some insight into five habits that can help prevent cancer. Read on to learn more.
Prevent Cancer by Exercising Regularly
This isn't new advice—you know you need to exercise! But did you know that being physically active has actually be linked with a lower risk of some types of cancer? 
Regular exercise has been specifically associated with a reduced risk of colorectal cancer, breast cancer and reproductive cancers. But beyond those types of cancer, being physically active and maintaining a healthy weight can help you prevent cancers of all types.
Aim for at least 150 minutes of moderate exercise each week. That's less than 22 minutes per day! What's moderate exercise? It's anything that gets your heart rate up and causes you to burn more calories than when you're sitting. 
Want more bang for your buck? Increase the intensity of your workouts—if you're strenuously exercising, you need only 75 minutes per week to meet the minimum standard.
Prevent Cancer by Avoiding Tobacco
Smoking is the single most preventable cause of death, so you likely know it isn't good for you. Tobacco use in general, including chewable tobacco, is associated with an increased risk of many types of cancer.
Secondhand smoke is also associated with cancer, so it's important to limit your exposure to others who are smoking, too.
If you smoke and are ready to quit, talk with your medical provider about a cessation strategy. There are many different options, so you can work together to find a strategy that may work best for you.
Prevent Cancer by Eating a Healthy Diet
When it comes to a cancer-preventing diet, there are two areas of focus—foods you should limit and foods you should fill up on! 
Healthy eating basics are a good place to begin. Fill your plate with lots of fruits and veggies, whole grains, lean proteins and low-fat dairy. Limit your intake of saturated fat, added sugars and excess sodium.
Fruits and vegetables in particular are packed with the good stuff. They contain cancer-fighting antioxidants, which can help fend off cellular damage from other chemicals.
Whole grains are also beneficial, offering up hefty doses of fiber, which has been associated with a reduced risk of colorectal cancer.
It's also important to watch what you drink. Excess alcohol intake is a risk factor for cancer, so if you drink, stick with moderate consumption. That's one drink maximum per day for women and two for men.
Prevent Cancer by Getting Enough Vitamin D
Vitamin D, which is obtained primarily through exposure to sunlight, has multiple purposes within the body. While we often hype up calcium as a bone-builder, calcium can't function without vitamin D, which helps the body absorb it properly. 
There is also some evidence that those with higher levels of vitamin D are at a lower risk of some types of cancer, including colorectal cancer and breast cancer.
Not sure what your vitamin D level is? A simple blood test can let your medical provider know whether you're on the level or not. If your levels are low, he or she may recommend vitamin D supplementation, since vitamin D is not commonly found in many foods.
Prevent Cancer by Having Regular Checkups
You know you're supposed to have an annual physical examination, but why? Cancer prevention is one key reason!
An annual checkup provides your medical provider with an opportunity to gauge your health and order lab work and age-appropriate diagnostic tests. Diagnostic tests for cancer are a common part of checkups—depending on your age, you may have a Pap test or HPV test to screen for cervical cancer, a mammogram to screen for breast cancer, a colonoscopy for colorectal cancer, or a prostate-specific antigen test for prostate cancer.
A regular visit with your medical provider also provides an opportunity to stay on track with recommended vaccinations. Most of these are not cancer-related but can help you maintain optimal health overall. However, the HPV (human papillomavirus) vaccine and hepatitis B vaccine are two vaccines known to reduce cancer risk.
Your medical provider can make recommendations for screenings and vaccinations individualized to your risk factors based on personal and family medical history.  
Regular checkups and screenings are an important tool for cancer prevention and early detection. Need to schedule an appointment? FIND A PROVIDER HERE.