When it comes to heart and lung care in west Tennessee, a misconception still prevails: "My family and I need to travel to find the best care." 
But that's far from accurate.
High-quality care and expertise can be found closer to home. That's the case with the West Tennessee Healthcare Heart and Vascular Center at Jackson-Madison County General Hospital, which has been providing comprehensive, nationally recognized cardiovascular care to west Tennessee and surrounding areas for more than three decades.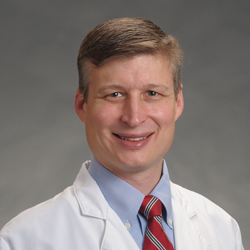 "Our program is not new," says Eric Sievers, MD, a board-certified thoracic surgeon with the West Tennessee Healthcare Heart and Vascular Center. "We have been providing comprehensive heart, vascular, and thoracic services to the patients of our region since 1983."
The West Tennessee Healthcare Heart and Vascular Center offers a full range of surgical expertise, with medical providers who have decades of experience performing open-heart procedures. For more than 35 years, surgeons affiliated with the center have performed nearly 600 open-heart surgeries a year. 
Surgical capabilities, however, don't end there. 
"We take care of almost everything that's related to cardiovascular or thoracic surgery," Dr. Sievers says. "This includes minimally invasive surgery for  heart valves, atrial fibrillation, and lung resection. Our facilities are state of the art, and we have two dedicated hybrid operating rooms allowing for the complex integration of  endovascular and surgical procedures. Not to mention access to the three robotic surgical platforms."  
The specialized operating rooms are equipped with both surgical technology and advanced imaging capabilities. The suite facilitates a multidisciplinary approach to surgery, allowing medical specialties to work together to provide safe, quick, and efficient care.
"We do as much—or more than—most big city hospitals that aren't transplant centers," Dr. Sievers adds.
Ahead of the Curve: Innovating New Heart and Lung Care Procedures
As procedures and techniques continue to evolve and advance, surgeons at the center are committed to staying at the forefront. This means continually adding new capabilities. 
"We were one of the earliest hospitals of our size in the region to formalize a structural heart team and begin performing transcatheter aortic valve implantation," Dr. Sievers says. "Many hospitals are still trying to play catch-up in that capacity. To date, we've performed 221 of these procedures."

Other innovative heart and lung care procedures are also available through West Tennessee Healthcare.
"We were also the first in the region to perform a newer carotid artery stenting procedure called 'trans carotid artery revascularization,' which is taking carotid stenting by storm," Dr. Sievers says. "The TCAR procedure is performed through a small incision in the neck combines stenting with state of the art brain protection line and greatly reduces the potential for stroke during revascularization." 
The West Tennessee Healthcare Heart and Vascular Center also recently introduced an advanced type of surgery for the treatment of atrial fibrillation, a type of surgical ablation known as the mini maze procedure. This procedure is minimally invasive and doesn't involve large incisions in the sternum, making patient recovery shorter and easier.
Excellence Across the Board
Advancements in technique and equipment are backed by the expertise of a team of physicians and other clinical staff specially trained in heart and lung care.
"Our physicians are trained with some of the best programs in the country, and they're backed by an exceptional clinical team," Dr. Sievers says. "At West Tennessee Healthcare, we have a dedicated cardiovascular ICU staffed with full-time intensivist coverage and critical care nurses. The care at our intensive care unit and in our operating rooms is on par with or better than many academic medical centers."
For physicians with patients in need of cardiac, vascular, or thoracic surgical procedures, there's no need to refer them to facilities in large cities far away. Patients will receive the same access to exceptional care and positive excellent outcomes at West Tennessee Healthcare. 
"We take care of patients from state line to state line essentially, drawing patients from southern Kentucky, eastern Arkansas, and northern Mississippi along with those from Tennessee," Dr. Sievers says. "There are very few patients that my colleagues and I need to refer out. It's very rare that something exceeds our capabilities.
"People choose to receive their care here because they don't feel the need to—or want to—travel to Nashville or Memphis."
For more information about heart and lung care at West Tennessee Healthcare, call 731-541-3310.