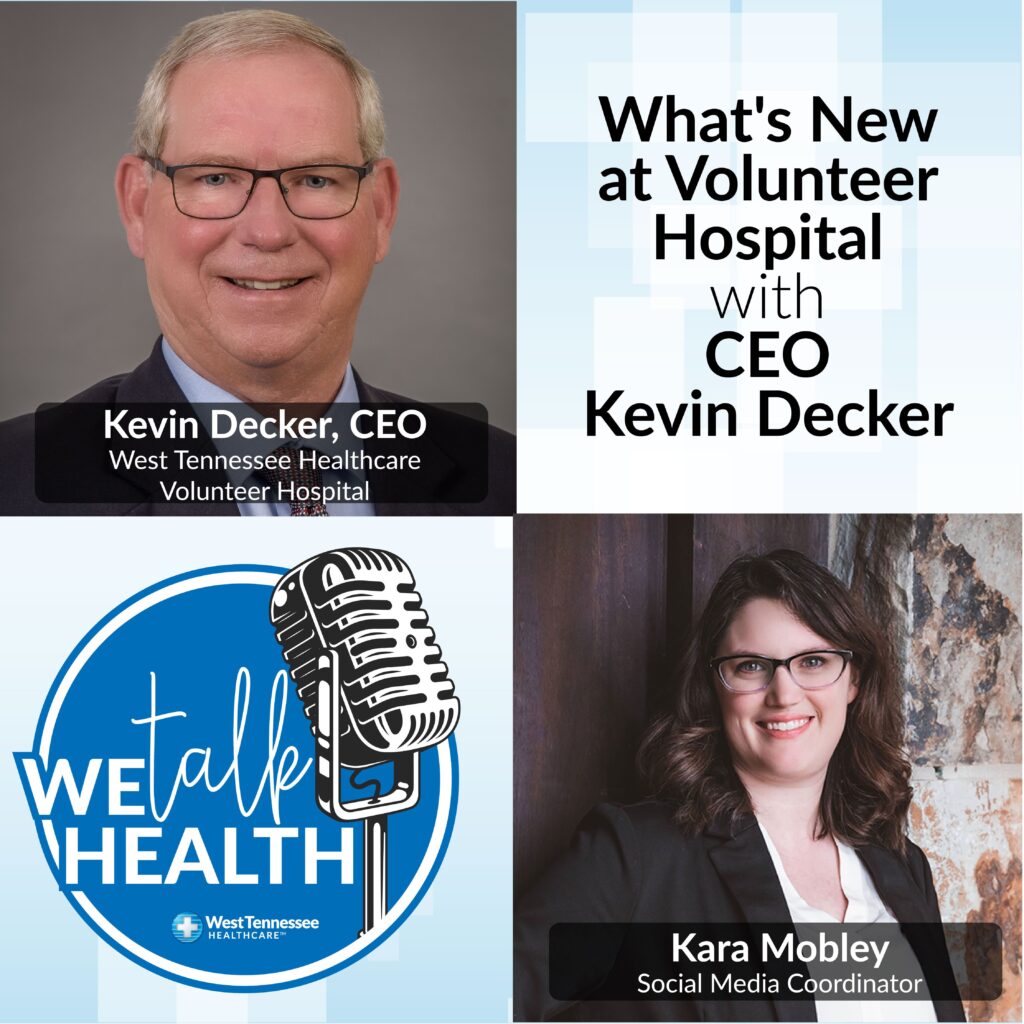 On this episode of We Talk Health,  Kevin Decker is back to share all the new things happening at Volunteer Hospital in Martin, TN.
In this podcast, we talk about the new providers, what's new in women's and surgical services, the new wound care center and the on-site wellness center. Tune in to hear all that Volunteer Hospital has to offer right in Martin, TN!
Guest:
Kevin Decker, CEO
West Tennessee Healthcare Volunteer Hospital
Host:
Kara Mobley
Social Media Coordinator
Show Notes:
Women's Services:
New OB/GYN – Dr. Robert Chin. To schedule an appointment with Robert Chin, MD, call (731) 587-5321.
Renovated Mammography Suite including upgraded 3D technology & dedicated separate entry & parking
Surgical Services:
General surgery services offered locally including appendectomy & gallbladder surgery
Podiatry services
 NEW interventional pain management procedures
New Advanced Wound Care Center:
Latest treatment available including debridement & advanced tissue procedures
Hyperbaric oxygen therapy chamber
To make an appt. Call 731-588-5910 – Wound Care Center
Wellness Center on Site:
Fitness/Wellness equipment
Wellness programs including personal training
Expanded hours: 6am to 7pm Monday through Friday
About Volunteer Hospital in Martin, TN
West Tennessee Healthcare Volunteer Hospital is your community healthcare provider; a 100-bed facility offering inpatient and outpatient care, emergency service, heart care, diagnostic imaging, pediatric medicine, physical therapy, and a range of specialties. We believe in the power of people to create great care. We're 78 healthcare professionals strong. We are your hometown health provider. And we work hard every day to be a place of healing, caring and connection for patients and families in the community we call home.
Services and Departments: Cardiac Care, Diagnostic Imaging, including mammography, Emergency Department, Interventional Radiology, OB Emergency Department, OB Hospitalist Group, Rehabilitation Services, Sleep Disorder Center, Cardiac Rehab, Surgical Services, Wellness Center, Women's Health and Wound Care.
Protect yourself against breast cancer with a mammogram–and without a referral–at Volunteer Hospital. It's quick. And it could save your life. To schedule a mammogram, call (731) 541-8303.
All information, content, and material listed here is for informational purposes only and not intended to serve as a substitute for the consultation, diagnosis, and/or medical treatment of a qualified physician or healthcare provider. If you are experiencing a medical emergency, call 911 immediately.