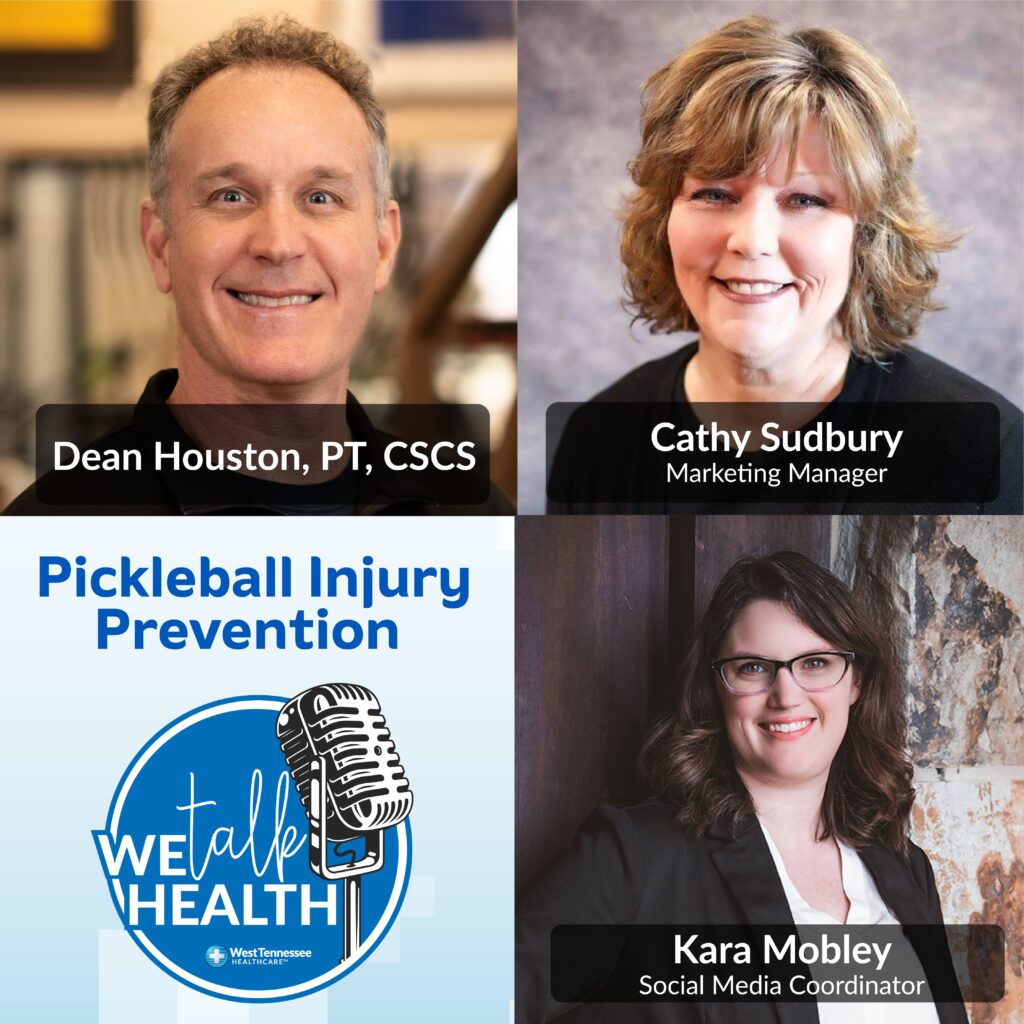 On this episode of We Talk Health, Dean Houston and Cathy Sudbury stop by to talk about a sport that has recently gained popularity…. Pickleball!
We discuss what pickleball is, who is it for and what some injury risk factors are for those thinking about playing. We also talk about what it means to be a physical therapist as October is PT Month. Find out all this and more!
Guests:
Dean Houston, PT, CSCS
Program Manager, Sports Plus South
Cathy Sudbury
Marketing Manager, Sports Plus
Host:
Kara Mobley
Social Media Coordinator
References:
– Sports Plus website – CLICK HERE
– Sports Plus South: 731-421-8116
Pickleball injury prevention. Don't get yourself in a Pickle!
Pickleball is currently the fastest-growing sport over the last two years, according to the Sports and Fitness Industry Association. It seems to be everywhere these days and parks and rec departments from all over are developing Pickleball courts and converting tennis courts into Pickleball courts trying to keep up with demand.
Pickleball is essentially a mash-up between tennis and ping­ pong. It's played on a court slightly smaller than a tennis court with a net. You use a paddle between the size of a ping pong paddle and a tennis racket and hit a plastic wiffleball. It can be played in singles or doubles with similar rules as tennis. Some say the hardest thing about playing Pickleball is understanding the rules.
Why is it so appealing to people?
It is a low-impact sport that can be played by any age person of any skill level. You don't need to be an athlete or be a competitive person to play and have fun. It is a very fun and relatively inexpensive way to gear up and get some exercise; making it very appealing to people of all ages.
What does pickleball have to do with physical therapy?
Dean Houston, PT, CSCS and Program Manager for Sports Plus South in Jackson, TN discusses injury prevention for pickleballers of all ages and skill levels. The accessibility and ease of getting started playing pickleball for people of all ages, makes this sport a prime opportunity for injuries, especially for older players.
"Not only am I a recreational pickleballer, but I am also a pickleball victim," says Houston. "I consider myself to be physically fit and above average regarding my health compared to other people in my age group, and I still managed to get injured playing pickleball. I went to a local orthopedic doctor and he felt confident that I ruptured my Plantaris muscle which is a muscle in the lower leg, but fortunately is a vestigial, accessory muscle and not a primary mover, so I was able to make a full recovery of function without surgical intervention."
Houston admits, "Did I stretch before and after that match when I was injured? Nope…it's just Pickleball…what's the worst that could happen?" Since that day, however, He's taken the pre-pickleball and post­-Pickleball stretching routines more seriously.
The point of this is NOT to scare people off the Pickleball courts, people need to get out there and do whatever activity makes them happy and hopefully healthier, but they also need to respect the injury potential and fully prepare their bodies for any activity…even pickleball.
What injuries commonly occur while playing Pickleball?
Strains, sprains, and fractures, several injuries are common. Repetitive use injuries, especially of the wrist and elbow (tennis elbow), shoulder injuries (RC), sudden injuries from quick ballistic movements, and injuries of the hamstring or calf that occur when lunging forward for a low shot are also quite common. The risk is amplified when the person playing has tightness in their hamstring/calf muscles and is typically inactive.
What can people do to prevent getting injured?
Properly warming up and stretching before the match as well as on days you don't play. Make it a daily routine. Dynamic stretching preferably before you play (warm-up) and static stretching afterward (recovery).
Target the specific joints, muscles, and tendons that would be most at risk when playing Pickleball: shoulders (RC), elbow/forearm flexors/extensors, hamstrings and calves.
Strengthening your core and hip muscles allowing you to play on a solid foundation is extremely important in reducing injury risks for all sports, even pickleball.
If you want to be a better pickleball player (or golfer, or tennis, or runner, etc.) with a decreased risk of injury, put as much emphasis on your pre/post-match routine as you do the match itself, even if you are not a competitive player, you must respect the potential for injury.
When should someone come to see you for Physical Therapy?
Someone should see a physical therapist if they have had an injury that they do not know how to manage. It is best to not wait until it is un­manageable.
If you are having pain or limitations regarding your mobility, strength, or ROM (range of movement), you most likely need to be seen for an assessment.
If you are not sure if you have muscle tightness or are having difficulty with managing tight muscle structures, our physical therapists at any of the Sports Plus Rehab Centers and at LiFT Therapy can assess you and guide you with how to safely manage any tightness or weakness. Beware of the internet, a lot of good info out there, but also a lot of bad info.
Happy Pickleballing!