Did you know that the genetic mutations that cause cancer and direct its destructive path can also be a key tool in the fight against cancer? That's the role of "tumor markers."
First though, what are tumor markers? 
Tumor markers are defined by the National Cancer Institute as "anything present in or produced by cancer cells or other cells of the body in response to cancer or certain benign [noncancerous] conditions that provides information about a cancer, such as how aggressive it is, whether it can be treated with a targeted therapy, or whether it is responding to treatment."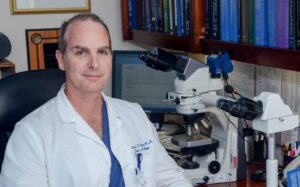 Mark P. Burton, MD, Medical Director of Pathology and Medical Laboratory Services at Jackson Madison County General Hospital, breaks down how tumor markers help guide care.
The Role of Tumor Markers
Exciting advancements have enabled our cancer specialists to use these genetic mutations as "tumor markers" to determine if a cancer has spread, develop prognostics, and predict whether a patient will respond well to treatment.
Over the past decade, biomarkers such as altered DNA, proteins and inflammatory cytokines have become increasingly critical in cancer research and therapeutic strategies. With technological advances in gene expres­sion and genomic and proteomic analysis, biomarker discovery is expanding rapidly.
So, what is the ideal tumor marker? Ideally, we're looking for tumor markers that would be highly sensitive, specific, reliable with high prognostic value, offering organ specificity, and correlating with tumor stages. 
But the current reality is: No single tumor marker has all of these characteristics. 
While that's the case, many tumor markers have shown excellent clinical relevance in determining whether treatment is working in cancer patients. Tumor markers can also help in the early detection of cancer recur­rence and in determining how a patient may do in the future.
The Types of Tumor Markers
We've mentioned that tumor markers are used in guiding treatment, but let's dig in a little deeper on the topic. There are two main types of tumor markers—and they're useful in different ways.
The type known as "circulating tumor markers" are found in blood, urine and other bodily fluids of a person who has cancer. They're used to estimate prognosis, detect cancer that remains following treatment, determine how a person is responding to treatment and determine if a person's body is resistant to treatment.
In most cases, circulating tumor markers will be evaluated at multiple points during cancer treatment and even afterward to check for cancer recurrence.
The other type of tumor markers are called "tumor tissue markers," and they are found in the actual cancerous tumors themselves. These tumor markers are used to diagnose, stage and classify cancer, as well as to determine appropriate treatment—and like with circulating tumor markers, this kind is also used to estimate prognosis.
The West Tennessee Healthcare Approach
The bottom line is this: The field is vast and is becoming more complex with every passing month, which emphasizes the need for communication and planning between our oncologists, surgeons, radiologists and pathologists. 
As part of this ongoing collabora­tive effort, West Tennessee Healthcare works closely with the Medical Center Laboratory to provide world-class testing for our patients throughout the region. For added peace of mind and convenience, Medical Center Laboratory is also well-aligned with other world-class reference laboratories, such as Vanderbilt, Integrated Oncology, Mayo Clinic, and more—provid­ing any additional ancillary testing needed by our oncologists.
Together, we can use rapidly advancing tumor marketing to point the way toward the best course of action for each individual in our care and help ensure the best possible outcome.
The Kirkland Cancer Center is committed to advancing care for patients diagnosed with cancer. This includes providing comprehensive services to diagnose, treat, and otherwise care for those faced with cancer.