We're pleased to announce that West Tennessee Healthcare Camden Hospital is the first hospital in the nation to receive Chest Pain Center for Critical Access Hospitals from the American College of Cardiology (ACC) in April 2023.
Using the ACC's accreditation process improvement tools, Camden Hospital bridges gaps and integrates evidence-based science, quality initiatives, clinical best practices, and the latest medical guidelines into our cardiovascular care processes for acute coronary syndrome, heart failure and/or atrial fibrillation patients.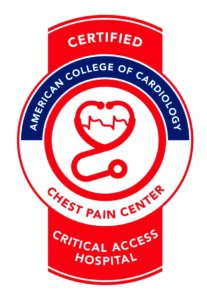 We are working to provide our patients with state-of-the-art cardiovascular care during the critical window of time when we can preserve the integrity of the heart muscle intact. Another step in our continuing efforts to optimize the care and outcomes of patients.
Special thanks to the accreditation team and congratulations to all for making continuous improvement possible.