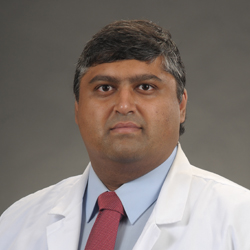 Jackson, Tennessee (June 9, 2022) – West Tennessee Healthcare is pleased to announce that a team at
Jackson-Madison County General Hospital led by cardiothoracic surgeon, Dr. Hetal Patel, successfully
completed the hospital's FIRST robotic-assisted coronary artery bypass graft (CABG) on June 7, 2022.
This minimally invasive technique allows for a quicker recovery time and does not require sternal
incision.
The patient, Mr. Larry Cox from Ripley, TN, said, "This was a miracle surgery. Dr. Patel talked to me
about it beforehand and thought I would be able to handle it. I am very happy my chest was not cracked
open. Dr. Patel is a wonderful surgeon. He has done this type of surgery at other locations, but I am the
first patient he has completed this surgery on in Jackson, TN. I would highly recommend Dr. Patel and
this type of surgery to anyone. He is awesome and my experience here at Jackson-Madison County
General Hospital has been wonderful. I want everyone to know that they can receive great cardiac care
right here."
According to Deann Thelen, CEO of Jackson-Madison County General Hospital, "This day marks a
a monumental milestone in the history of our heart program, and we are so proud of Dr. Patel and the
the team involved."
Dr. Patel joined the West Tennessee Medical Group Cardiothoracic Surgery clinic in 2017, and is a
graduate of the University of Alabama at Birmingham. He went to medical school at the University of
South Alabama College of Medicine in Mobile, and completed his residency at Baptist Health Systems.
For more information, patients can call 731-541-3310.
About West Tennessee Healthcare:
West Tennessee Healthcare is a public, not-for-profit healthcare system with locations serving 19
counties in West Tennessee and Southeast Missouri. The mission of West Tennessee Healthcare is
to improve the health and well-being of the communities we serve while providing exceptional and
compassionate care. For more information, visit www.wth.org.