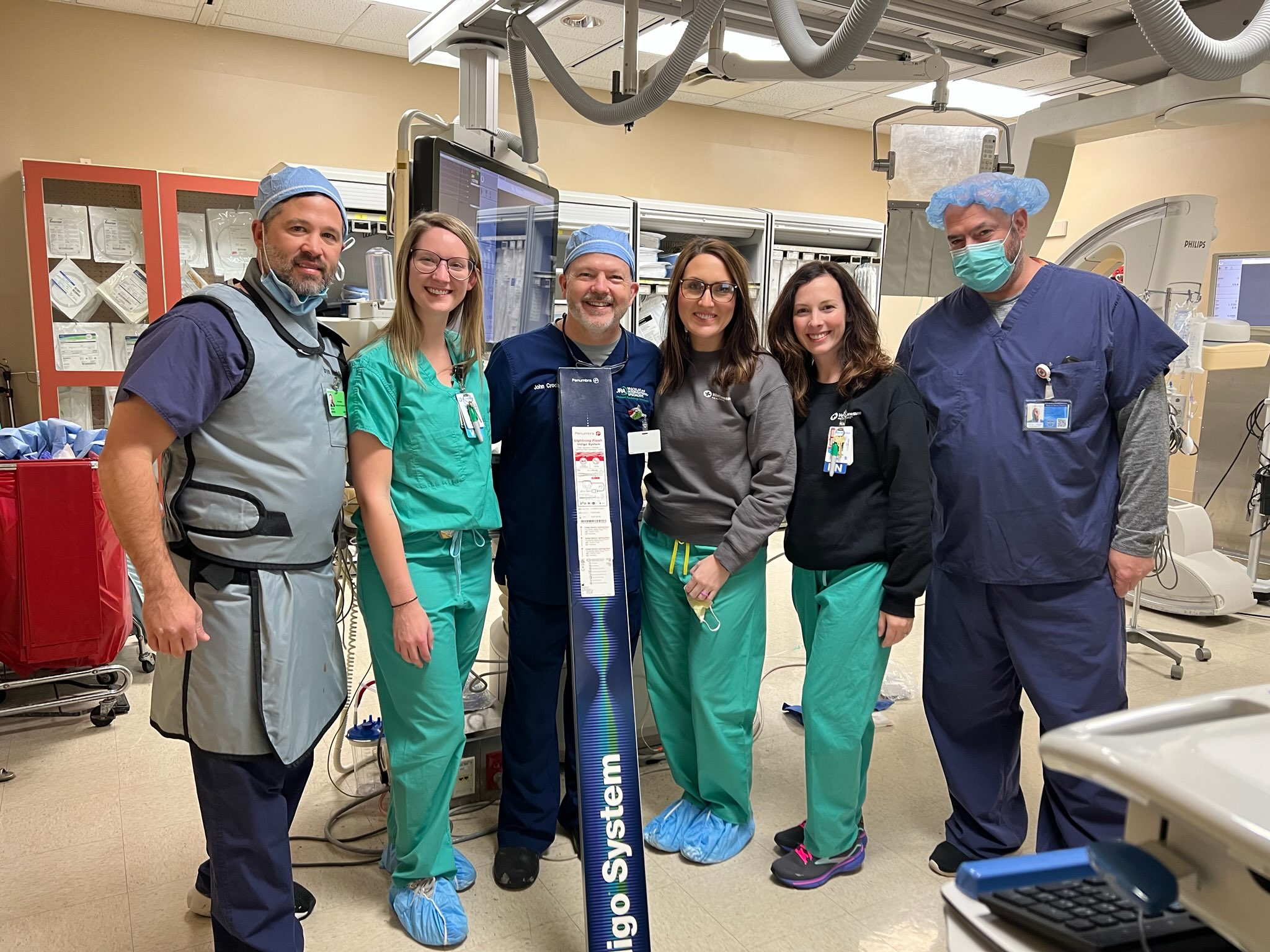 Bryan Morris Territory Manager
Addison Frazier RT (R)
Dr. John Crocker Interventional Radiologist
Ashley Criswell RT (R)
Morgan Bright McGowan RN
Dominick Plastino Clinical Specialist
Jackson, Tennessee (February 2, 2023) –Jackson Radiology Associates' Dr. John Crocker and
The interventional Radiology team at Jackson-Madison County General Hospital (JMCGH) performed
Tennessee's first (and the third in the world) arterial thrombectomy (removal of blood clot) using
Penumbra's Lightning Flash thrombectomy catheter on January 26, 2023.
According to Dr. Crocker, "This new device allows quick and efficient extraction of large volumes of
blood clot material from arteries and veins of the body.  In the past, open surgery requiring general
anesthesia or prolonged administration of clot-dissolving medication with 1 to 2 day stays in the ICU
were common to achieve what can now be done in less than an hour– with only minimal sedation and a
tiny incision that requires only a Band-Aid when completed."
Lightning Flash is a specially designed catheter (tube) that vacuums the clot from blood vessels.  Sensors
are embedded in the Lightning Flash system and connected to a computer that is able to discern the
location of the clot in the vessels.  The computer automatically adjusts the vacuum based upon the
location and amount of clot.  This highly advanced capability enables quick extraction of a deadly clot
that previously could not be retrieved or would require a lengthy hospital stay.
Keith Garner, Executive Director of Radiology for JMCGH, stated, "We are extremely excited to be able
to offer and perform these potentially life-saving procedures here within our Interventional Radiology
Department at JMCGH, as well as, also be the first in the state of Tennessee to perform them. Being one
of the first hospitals in the world to perform these vital procedures, reiterates that WTH-JMCGH truly
does offer world-class care right here in the heart of West Tennessee!"
For more information about Interventional Radiology services at JMCGH, please contact the Radiology
Department within JMCGH at 731-541-7850.
About West Tennessee Healthcare:
West Tennessee Healthcare is a public, not-for-profit healthcare system with locations serving 19
counties in West Tennessee and Southeast Missouri. The mission of West Tennessee Healthcare is
to improve the health and well-being of the communities we serve while providing exceptional and
compassionate care. For more information, visit www.wth.org.