August 3, 2023 – The Hope & Healing Foundation is proud to announce a gift of $11,000 to the Ayers Children's Medical Center and Le Bonheur Children's Hospital.
In an effort to support local compassionate, high-quality pediatric care, Paul Hare and the Jackson Spokes presented $11,000 divided between Ayers Children's Medical Center and Le Bonheur Children's Hospital.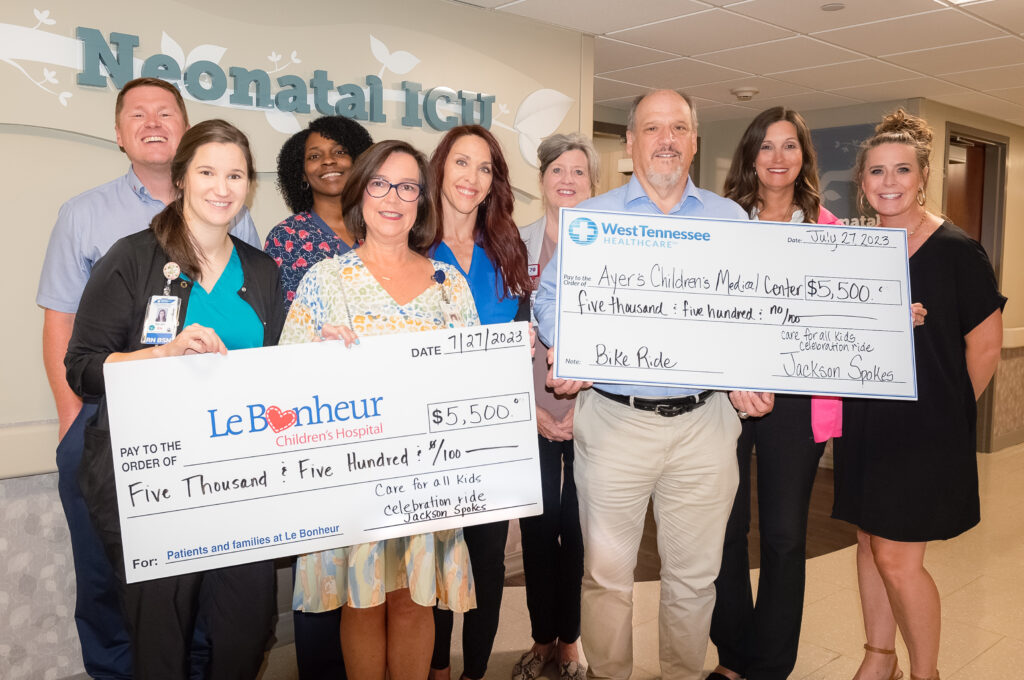 "We are so proud to have The Hope and Healing Foundation's support in our efforts to meet the needs of our pediatric patients. It is our hope that families served will receive the highest quality, compassionate care while they are here," stated Deena Kail, Executive Director of Women and Children's Center of West Tennessee Healthcare.
The Jackson Spokes have a tradition to ride your age in miles on your birthday, and it has grown into The Care for All Kids Celebration Ride. Riders come from all over the Southeast and Midwest. They have had riders from Alabama, Mississippi, Kentucky, Arkansas, and Missouri.
"We are pleased that Jackson Spokes is working to ensure our pediatric patients receive the care they need, close to home.  Their commitment to providing resources for our pediatric units is such a commendable act of generosity, and we are so appreciative," stated Donna Stines, Director of the West Tennessee Healthcare Hope and Healing Foundation.
About The Hope and Healing Foundation:
The Foundation is a public foundation dedicated solely to raising money and providing support for the health, healing and wellbeing of the patients, staff, and the communities served by West Tennessee Healthcare.
To learn more about the Foundation, its team, or the many ways it serves the community, visit wth.org/services/hope-healing-foundation or contact Donna Stines at Donna.Stines@wth.org
About West Tennessee Healthcare
West Tennessee Healthcare is a public, not-for-profit healthcare system with locations serving 19 counties in West Tennessee and Southeast Missouri. The mission of West Tennessee Healthcare is to improve the health and well-being of the communities we serve while providing exceptional and compassionate care. For more information, visit www.wth.org.