Nurse Residency Program
We're the most trusted name in healthcare for 19 counties and 90 locations.  Since we're always growing, we're always looking for nurses to join us in our mission to improve the health and well-being of the communities we serve while providing exceptional and compassionate care.
Nurse Residency at West Tennessee Healthcare
Welcome to the nurse residents program at West Tennessee Healthcare.
Our Nurse Residency Program (NRP):
I

s designed to support you as a new nurse in gaining confidence and skill as you transition into your career as a professional nurse at West Tennessee Healthcare

I

s 6 months in length with three cohorts a year: January, June, and September

I

s an intense orientation giving nurse residents the ability to focus on areas that match their interests and career goals

Addresses topics such as evidence-based nursing, leadership, patient outcomes, critical thinking, stress management, nursing professional development, and more
We achieved the global standard for residency programs that transitions registered nurses into new practice settings.
What sets our Nurse Residency Program apart from others:
The program accepts new nurses who are scheduled to take but have not finished their boards.

New nurses have the opportunity to give care in a variety of settings before choosing a specialty.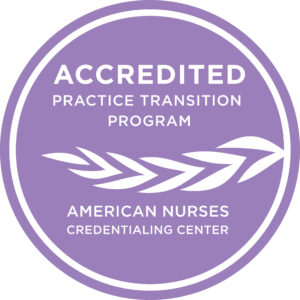 West Tennessee Healthcare Nurse Residency Program is accredited as a Practice Transition Program by the American Nurses Credentialing Center's Commission on Accreditation in Practice Transition Programs.
The current site included in this accreditation designation is:
WTH – Jackson – Madison County General Hospital
The current workplace settings* included in this accreditation designation are:
Surgical
Medical – Surgical
Oncology
Step Down
Critical Care
Labor & Delivery
Ante/Postpartum
Neonatal Intensive Care Unit (NICU)
Operating Room
Psychiatric
Emergency Department
Specialty Practice: Interventional Radiology
*Rotation and job placement in each of these workplace settings are subject to availability for each cohort.
Program Information
Nurse residents are oriented to our system and gain experience in multiple departments and hospitals during the 2 month rotation period of the NRP.
The Nurse Residency Program (NRP) exists to support the mission and vision of West Tennessee Healthcare. The program is for new graduates from an accredited school of nursing with less than six months experience. Nurse residents (NR) have the option to be placed at any of our seven participating hospitals. The program is six months long, and consists of two phases.
Phase 1: 9 Weeks – Core Competencies and Rotations
Find your team!
Exposure to multiple departments based on areas of interest and career goals. See our workplace settings for nurse residency placement.
Options to experience any hospital in our system
Phase 2: 7 Weeks (or more) – Home – Unit Orientation/Unit – Specific Competencies
Continued Support from program leadership, individualized goals, educational classes and opportunities for continued engagement.
Continued follow ups and Mentorship from Nurse Resident Coordinators, along with required educational classes and points of contact
Phase 3: Wrap Up 6 – Month Program
Gain confidence while working as part of a nursing team that is built on a strong foundation
Continued development in productive RN role
Program Requirements
Nurse residents are employees of West Tennessee Healthcare and are expected to meet the requirements of any other employee regarding compliance to attendance, performance, policies, and procedures.
Nurse Residents are expected to:
Commit to a full-time work schedule (36-48 hours per week)
Attend all core classes and complete assignments within established timeframes
Develop and utilize mentoring relationships that promote professional development
Actively participate in general and specific learning experiences
Demonstrate safe patient care behaviors and effective decision-making
West Tennessee Healthcare is making a significant investment in your education and competency as a new nurse. In exchange, you are expected to become a part of our care team who is engaged, committed to patient safety and patient satisfaction.
To be considered for the Nurse Residency Program, graduates must:
Have graduated from an accredited school of nursing
Be applying for the first formal work experience as a registered nurse
Complete the West Tennessee Healthcare online application
Submit a current resume outlining relevant clinical and work experience
Attach a cover letter stating short-term and long-term goals for nursing career, reasons for interest in the Nursing Residency Program, and reasons for interest in working at West Tennessee Healthcare
You may start in a Graduate Nurse role. However, once your Authorization to Test (ATT) is received, National Council Licensure Examination (NCLEX) should be scheduled as soon as possible
Basic Life Support (BLS) certification must be from the American Heart Association and current preferable three months post-graduation
Applicants will be contacted with interview details, date, and time.
What to bring to your interview:
Resume
Cover letter
Two letters of recommendation, one professional and one personal
Current BLS card
Cohorts
West Tennessee Healthcare Nurse Residency is a great place to start your journey!
West Tennessee Healthcare is a system of seven hospitals, and serves as a clinical site for 8 schools of nursing, employs over 7,000 healthcare professionals, and serves approximately 500,000 residents. 
Cohorts begin January, June, and September.
Nursing Educational Loan
Qualified applicants must be fulltime, weekender, part-time classified as working at least 24 or more hours per week, N3 PRN, N4 PRN, or Team Builder WTH employees for six (6) consecutive months prior to the date of application. Employees must not be in default at the time of the application deadline to be considered.
Recipients of educational loans who satisfactorily complete their course of study and be-come licensed may repay the educational loan by working for West Tennessee Healthcare in a qualified position (as a registered nurse or in a nursing leadership/management role). For each six (6) months employees that are fulltime, weekender, or part-time classified as work-ing at least 24 hours a week with West Tennessee Healthcare in a qualified position, the sum of $2,000 of the debt will be forgiven. For PRN and Team Builder positions, forgiveness will be based upon the amount of hours that the employee works during the 6-month period (less than 500 hours will be in default), 500-1,039 hours will be forgiven $1,000, and 1,040 hours or greater will receive $2,000 forgiveness.
Application periods are March 1 – June 5 for fall applicants and Sept. 1 – Oct. 15 for spring applicants.
Call Amber Thoreson at (731) 265-1097 for more info.