Surgery
A wide range of orthopedic surgeries are performed every day at Jackson-Madison County General Hospital and the West Tennessee Surgery Center. Orthopedic surgeries include knee and hip replacements; arthroscopic surgery of the knee, hip, wrist, and ankle; shoulder replacement; ACL repair or replacement; rotator cuff repair; fracture repair; and hand surgery.
The orthopedic surgery department is proud to make the latest technology in surgical services available to the people of West Tennessee. The physicians and staff utilize state of the art navigation equipment for knee replacement procedures allowing for extremely precise measuring and fitting of knee hardware. Specialized operating room tables are available to aid in the repair of hip fractures. Advanced digital video equipment used for arthroscopic procedures make surgery a successful and safe option for our patients.
The NAVIO® robotic surgery system enables surgeons to perform partial knee replacements instead of entire knee replacements—a welcome option for patients whose knee deterioration is limited to a single area.
Smaller incision
Less pain
Quicker rehabilitation and recovery
More natural knee motion
Lower risk of complications
Outpatient surgery vs. hospital stay
A quicker return to an active lifestyle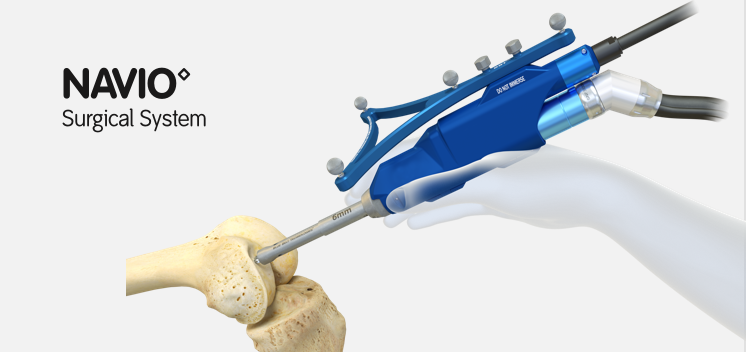 Our experienced and dedicated staff's mission is to provide high quality service to each patient, in addition to exhibiting respect and compassion. You are our focus and your care is our priority.
---
Inpatient Care
We appreciate that you have chosen us to provide care for you during your procedure and recovery. Our program is designed to give you the best results possible.
Our facility has special features which allow us to help accommodate you during your stay, such as:
Newly renovated floor specifically designated for orthopedic patients
Experienced staff trained to work with orthopedic patients
Purposeful rounding designed to help meet your needs
Adaptive bathroom equipment
Written discharge instructions as well as a follow-up appointment
Orthopedic chairs and cushions to allow for more comfortable seating
---
Inpatient Rehabilitation
Jackson-Madison County General Hospital offers both Acute rehabilitation services for inpatients during a hospital stay and a separate Inpatient Rehabilitation Unit for patients who need more extensive therapy services after discharge.
During your stay in the hospital, a wide range of therapy services are available including Physical Therapy, Occupational Therapy, Speech-Language Pathology, Swallow Studies, and Wound Management. The orthopedic team at Jackson-Madison County General Hospital will work with your physician to determine the best course of therapy treatment for you during your hospital stay.
If additional rehabilitation services are needed, the West Tennessee Rehabilitation Center is a licensed, 48-bed, CARF-accredited inpatient rehabilitation center located on the fourth floor of Jackson-Madison County General Hospital.
---
Outpatient Rehabilitation
Jackson-Madison County General Hospital is proud to offer exceptional outpatient therapy services at its Sports Plus Rehab Centers. Sports Plus Rehab Centers are full-service outpatient therapy clinics that are convenient and easily accessible to you with five locations in Jackson and 11 additional locations throughout West Tennessee. Each clinic provides a full array of physical therapy services. Many locations also offer additional services such as Occupational Therapy, Aquatic Therapy, and specialized treatment programs.
For patients recovering from total joint replacement to athletes with acute injuries, the therapists at Sports Plus Rehab Centers take an individualized approach to caring for people. They will work with you and your physician to achieve your goals for recovery. For more information on outpatient rehabilitation, call 1-800-427-0957.
Medical Center Home Health is licensed to provide quality medical care in the home setting for patients in 17 West Tennessee counties. Rehabilitation services offered by Medical Center Home Health include Physical Therapy, Occupational Therapy and Speech-Language Pathology.
Other services offered include skilled nursing provided by RNs and LPNs, Psychiatric Nurses, Nurse Assistants, and Social Workers. For more information about Medical Center Home Health, call Nancy Guyton at 731-984-2000 or toll-free in West Tennessee at 1-800-748-3025.
---
LIFT Wellness
Lift Wellness Center is a fully integrated medical fitness facility that offers medical oversight and credentialed professional fitness staff to the community including those individuals recovering from orthopedic injuries or surgery.
The qualified staff at Lift Wellness Center works with you and your physician to develop a comprehensive wellness program including muscular strength and flexibility as well as cardiovascular fitness, nutrition, and education to help you live the life that you want to live. You will also be able to explore a range of wellness options to achieve your specific goals. The Center's unique approach provides for total health, fitness, and wellness needs—all at one facility. We want to ensure that you get the help that you need to optimize your health while having fun in our safe and welcoming environment.
Lift Therapy is an outpatient rehabilitation facility, located inside the Lift Wellness Center. We offer comprehensive, state of the art, patient-centered rehabilitation. We have one of the most clinically diverse staff in the region to provide you with the most specialized care available. Our goal is to transition you from injury or illness back to everyday life as quickly and efficiently as possible. Lift Therapy offers Physical Therapy, Occupational Therapy, Speech Therapy, Neurological Rehabilitation, and Hand Therapy. A physician's order is required for therapy. Call 731-421-6950 for more information.
---
NONDISCRIMINATION NOTICE STATEMENT
West Tennessee Healthcare (WTH) does not exclude, deny benefits to, or otherwise discriminate against any person on the grounds of race, color, national origin, age, religion, disability, Limited English Proficiency or sex, including discrimination based on gender identity, sexual orientation, sex stereotyping or pregnancy in admission to, participation in, or receipt of the services and benefits under any of its programs and activities, whether carried out by WTH directly or through a contractor or any other entity with which WTH arranges to carry out its programs and activities.
For further information about this policy, contact Amy Garner (731) 541-9914.