Comprehensive Care
West Tennessee Heart & Vascular Center provides comprehensive cardiovascular care through nine Areas of Expertise. Among our more than 40 diagnostic procedures and treatments are numerous state-of-the-art treatments for heart attack, stroke, heart valve disease, and peripheral vascular disease (PVD) patients.
Cardiologists specializing in heart surgery and vascular surgery, team up with emergency department physicians, radiologists, heart rhythm specialists, cardiac rehabilitation trainers, and other medical staff to provide patient-centered care.
Jackson-Madison County General Hospital has demonstrated sustained achievement in Chest Pain MI Registry™ for eight consecutive quarters and met high-performance standards for specific performance measures to receive this 2019 award.
Our Areas of Expertise
Chest Pain Care
Valve Care
Vascular and Imaging Services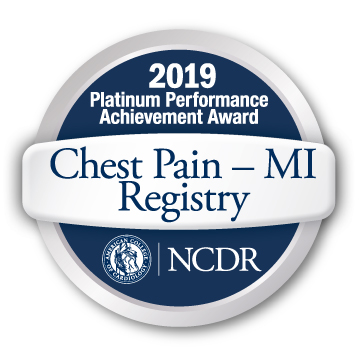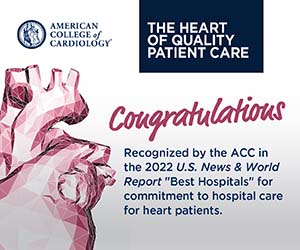 A Certified Advanced Primary Stroke Center
We have earned the prestigious Joint Commission Advanced Primary Stroke Center Certification, recognizing our dedication to foster better outcomes for stroke patients. From the moment stroke symptoms begin, Time is Brain. West Tennessee Healthcare Heart and Vascular surgeons and interventional radiologists are available to dissolve or remove blood clots in the brain. A multidisciplinary team that also includes emergency medicine physicians and neurologists is prepared to evaluate, image and treat patients quickly, and to use "clot-busting" medication when appropriate for the best recovery.
Our Stroke Team at Jackson-Madison County General Hospital:
Emergency Medical Transport
Emergency Medicine Physicians
Diagnostic and Interventional Radiologists
Neuroscience & Spine Center
Neurologists
Neurosurgeons
Neuropsychologist
Neuro Intensive Care Unit
34-Bed Step-Down Neurological Disease, Stroke and Surgery Unit
Cardiac Rehabilitation
When you're recovering after a cardiovascular surgery or dealing with the effects of a heart health condition, you may have many questions. The Cardiac Rehabilitation Program at West Tennessee Healthcare can help you get back to living at your best—safely.
Specialized Rehabilitation for Heart Health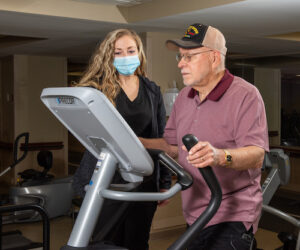 Recovering after a cardiac surgical procedure, like coronary artery bypass surgery or heart valve repair, requires a careful and strategic approach. Cardiac rehab is specially designed to help those who have had a heart-related surgery or who have a heart health issue, like a heart attack, safely begin exercising and boost their heart health.
During the 12-week outpatient program, participants meet three times weekly to take part in supervised and monitored physical activity and to sit in on educational classes about heart health topics. Our goal is to equip you with the information and resources you need to live your best life.
Getting You Back to Good Health
Exercising regularly is a key part of maintaining good heart health, but if you're recovering after a surgery or current heart condition, you may be worried or stressed about what's OK to do and what's not. That's where the Cardiac Rehabilitation Program comes into the picture.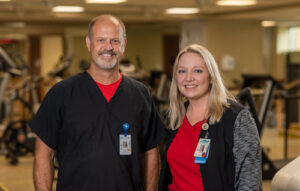 Cardiac rehab includes:
A personalized program to help you get back to normal activity and boost your heart health
Physical activity that's supervised by staff and monitored using specialized telemetry equipment to keep an eye on how your heart is performing
Weekly educational classes about improving heart health and overall health, including topics such as a heart-healthy diet, weight control, stress management, heart disease risk factors, smoking cessation, and how the heart works
Resources to help reduce the risk of recurrent heart disease
Encouragement for family members and loved ones to participate in educational sessions to learn about steps for improving heart health
Cardiothoracic Surgery Center
For your heart surgery needs, the Cardiothoracic Surgery Center is the experienced leader in West Tennessee. The physicians and their staff work daily with patients to provide the best outcomes and return them to a healthy life.
Today, Jackson-Madison County General Hospital is proud to have cardiovascular surgeons from some of the top heart programs in the country providing state-of-the-art service and expertise in:
Coronary artery bypass surgery
Off pump coronary bypass
Aneurysms of the aorta
Carotid artery disease
Atrial fibrillation surgery
Minimally invasive coronary artery bypass procedures (MIDCAB and heart ports)
Lung and chest surgery for benign and/or malignant disorders
Endovascular aortic cardiac pacemakers surgery
Robotic thoracic surgery
Pulmonary nodule clinic
Cardiovascular Surgery
The cardiovascular surgeons provide quality service and expertise in Coronary Artery Bypass Surgery; Valve Repair or Replacement, and Minimally Invasive Coronary Artery Bypass Procedures (MIDCAB & Heart Ports). Since 1983, we have performed over 15,000 open heart procedures. The cardiac surgery team includes anesthesiologists, physician assistants, nurse specialists, perfusionists and technologists. The collaborative effort by the cardiologists, cardiovascular surgeons, anesthesiologists and other highly trained support personnel, place the Jackson-Madison County General Hospital among the top of the nation's hospitals performing coronary artery bypass surgery.
In addition to the treatment your doctor prescribes, you will be asked to change to a healthier lifestyle. Changing your lifestyle is a very important part of your treatment for heart disease.
Hybrid Operating Suite
The Latest Technology in Operating Suite Capabilities
The state-of-the-art 1,000 square foot hybrid surgical suite combines cutting edge surgical technology with the most sophisticated imaging capabilities. It can be transformed from a minimally invasive surgery setting to a full open-heart surgery operating room in minutes. The hybrid surgical suite allows for a multi-disciplinary approach to surgery so that medical specialties can work together providing safer, quicker and more efficient services.
Hybrid Technologies:
Twice the size of a traditional operating room
Fully digital system
Advanced in suite diagnostics
FlexMove, ceiling-mounted system
Zone organization
Philips Healthcare imaging technology
Multiple monitors
Multidisciplinary team approach
Rapid transformational process between surgeries
Potential Hybrid Operating Suite Surgeries:
Vascular procedures
TAVR, as transcatheter aortic valve replacement
High-risk procedures
Robotic procedure
Heart Care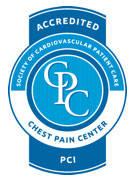 There is no cure for heart disease. All therapy is aimed at reducing the chances of future heart damage and improving quality of life. If you are diagnosed with heart disease, your doctor will choose the treatment that is best for you. Some treatment involves procedures, such as an angioplasty (or "balloon" procedure). Other treatment may be medical or surgical.
Cardiac Catheterization
When needed, a more comprehensive test may be performed involving a very small internal catheter and contrast dye which provides an accurate x-ray moving picture of blocked vessels affecting the heart. This test can be performed from a blood vessel in the groin (femoral approach) or arm (radial approach) through the aorta into the heart. Cardiovascular surgeons and a surgery suite are readily available if the need arises for emergency cardiac surgery. Heart surgeons, together with expert technologists, perform approximately 6,000 cardiac catheterizations each year as well as 1,100 balloon angioplasties. Since the labs opened, we have performed over 40,000 procedures. This includes more than 5,500 angioplasties (balloon surgeries), the placement of over 1,200 intracoronary stents and many other types of interventional procedures.
Radial Artery Catheterization & Radial Lounge
Radial artery for cardiac catheterization procedure is the use of the radial artery in the wrist as the entry point for the catheter. The cardiologist threads the thin catheter through the body's network of arteries in the arm and into the chest, eventually reaching the heart. Doctors may also call this transradial access, the transradial approach or transradial angioplasty. The radial artery approach is safer for patients as it is associated with less bleeding and fewer complications compared to the femoral approach.
Before the procedure, the blood supply of the radial artery of the patient's hand is assessed and other qualifying tests might be performed. There are two arteries (radial artery and ulnar artery) that supply blood to the hand. The catheterization procedure is safe to proceed, only if both arteries are working properly. This approach is not appropriate for patients who are extremely thin or have small or twisted arteries.
Radial Artery Catheterization & Radial Lounge
Radial artery for cardiac catheterization procedure is the use of the radial artery in the wrist as the entry point for the catheter. The cardiologist threads the thin catheter through the body's network of arteries in the arm and into the chest, eventually reaching the heart. Doctors may also call this transradial access, the transradial approach or transradial angioplasty. The radial artery approach is safer for patients as it is associated with less bleeding and fewer complications compared to the femoral approach.
Potential Advantages to the Radial Artery Catheterization:
Minimal bleeding
Less risk of nerve injury
Lower rate of complications
Faster recovery
Steps Involved in Radial Artery Catheterization:
A local anesthetic will be injected to the wrist to numb the area.
A small tube (sheath) is inserted into the radial artery.
Medications are given to help relax the radial artery.
Blood thinners are also administered to help prevent the formation of blood clots within the artery.
Then the catheters are moved through the tube and guided to the heart.
After the completion of the procedure, the catheters and tubes are removed from the radial artery.
The patient will then recover in the radial lounge until released. Often this recovery is 2-3 hours. The patient is advised to wear a compression device on the wrist, usually for 2 hours following the procedure. Patients are able to sit up and eat after the procedure and may resume their normal activities after 48 hours.
Risks
As with any medical procedure, there are some risks and complications. Possible risks and complications associated with radial artery catheterization include:
Although rare, spasms of the muscles lining the wall of the radial artery can occur.
Occlusion of the radial artery caused by blood clot formation within the artery may occur. This is usually harmless and may be prevented by using blood thinners.
Your doctor will determine if this is the right approach for your heart testing needs.
Our 148-Bed Heart Care Area Includes:
Chest Pain Care with Accreditation plus PCI Coronary care unit (CCU) with a total of 18 beds
Three progressive coronary care (telemetry) units (total of 89 beds)
A 12-bed cardiovascular surgical intensive care unit (CVICU)
A 29-bed surgical progressive care (telemetry) unit
Four operating suites dedicated to cardiovascular surgery
Six Cardiac Catheterization Laboratories
Post Catheterization Outpatient Recovery Unit (6 beds)
Special Procedures Lab (Swans-Ganz; Lifeports; temporary pacemakers; chest tubes; nerve block)
Cardiac Rehabilitation Facility with indoor walking track and exercise center
Radial Artery Catheterization Radial Lounge
Echocardiography (M-Mode; 2-D echocardiography; Doppler-Peripheral Vascular; Color Flow; Transesophageal echocardiography (TEE); Stress Echo)
Mobile Echo Services available to area hospitals/clinics to provide the following services: M-Mode; 2-D echocardiography; Doppler-Peripheral Vascular studies; Color Flow and Diagnostic Testing of the Heart
The full range of non-invasive and invasive cardiovascular services provided by the West Tennessee Heart and Vascular Center enables its physicians to identify problems and recommend the most appropriate and expedient course of treatment.
We have brought these services together to improve access and ease for patients moving through our center. Our coordinated care teams work together to promote excellent communication between our caregivers and our patients receiving that care. Our team of specialists include:
Electrophysiologist (Heart Rhythm Specialist)
Heart Surgeons
Radiologists
Vascular Interventionalists (who operate and/or provide balloons, stents, etc. for blood vessels)
Vascular Surgeons
Vascular Interventional Radiologists
Anesthesia caregivers who specialize in Heart and Vascular care
Emergency Department Physicians
All hospital physicians, nursing, and technical staff associated with cardiovascular services (Cath Labs, Peri-Procedure Unit, Cardiac Rehab, Community Outreach, Cardiac and Vascular Imaging, Non-Invasive cardiac and vascular studies)
Our Center's Executive Council is made up of specialists and hospital administration to provide expert leadership and guidance for the program. This leadership is critical to providing high quality, compassionate, and efficient care to all who find themselves in need of the West Tennessee Healthcare Cardiology.
---
NONDISCRIMINATION NOTICE STATEMENT
West Tennessee Healthcare (WTH) does not exclude, deny benefits to, or otherwise discriminate against any person on the grounds of race, color, national origin, age, religion, disability, Limited English Proficiency or sex, including discrimination based on gender identity, sexual orientation, sex stereotyping or pregnancy in admission to, participation in, or receipt of the services and benefits under any of its programs and activities, whether carried out by WTH directly or through a contractor or any other entity with which WTH arranges to carry out its programs and activities.
For further information about this policy, contact Amy Garner (731) 541-9914.