Early Childhood Learning Services
(Birth – 4 Years Old)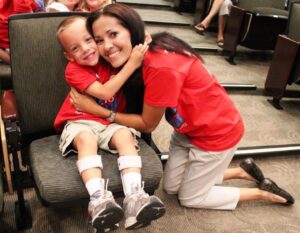 Our TLC Early Learning Childhood Services not only include pediatric clinic based therapy but also provide specialized home support for families. We believe there is immense value in a child receiving educational home services to accomplish great gains developmentally in those early learning years of birth to 4 years old to better prepare them for school. Our team of Developmental Evaluators and Developmental Therapists strive to be a support system to parents and caregivers in those early learning years by providing assistance for concerns with feeding/eating, physical strength and abilities, play, social and behavioral techniques, speech progression and much more.
---
Eligibility and Early Intervention
Do you have Concerns about your Baby or Toddler's Development?
If you're concerned about your child's development, don't wait. You know your child best. Intervention is likely to be more effective when it is provided earlier in life rather than later. Therapy & Learning Center provides support for children birth through 4 years of age who qualify through Tennessee Early Intervention Services (TEIS). Children may be eligible if they have a qualifying diagnosis or have a certain percentage of delay in one or more of five developmental areas.
At Therapy & Learning Center's KIDS (Kiwanis Intervention and Developmental Services) we love children of all abilities and provide developmental and educational home services. We coach caregivers to engage their young children in learning and growing as they participate in everyday routines and activities that are meaningful to them.  We believe that every child deserves the chance to succeed and strongly believe that starts in the early years of their life.
Eligibility
We provide in depth assessments for children birth through age four who may have a developmental delay. Serving all 21 counties in West Tennessee (including Shelby County), and 3 counties in Middle Tennessee, our developmental evaluators visit the home to provide a full evaluation and support for families. TLC Evaluators are used as partners with Tennessee Early Intervention System as part of the eligibility process.
Early Intervention/Developmental Therapy
Therapy & Learning Center offers a team of Developmental Therapists to provide ongoing home and community based developmental therapy for children under the age of four who qualify for services through TEIS. Serving 8 counties in Southwest Tennessee, our Developmental Therapists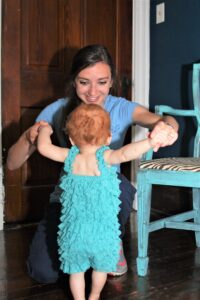 support children and families in their natural environment using a family guided routines based approach. These staff will assist families with encouraging their children to develop their physical, cognitive, emotional, and language skills while working within their daily walks of life.
Want more info or would you like to refer a child for Early Intervention Services?  Visit tn.gov.
Families benefit from early intervention because they do not have to walk the path of their child's development alone. Our staff will provide guidance, compassion and empower families to help their children learn & develop. For more information, email Jessica.Beaver@wth.org or call (731) 668-9070.
---
NONDISCRIMINATION NOTICE STATEMENT
West Tennessee Healthcare (WTH) does not exclude, deny benefits to, or otherwise discriminate against any person on the grounds of race, color, national origin, age, religion, disability, Limited English Proficiency or sex, including discrimination based on gender identity, sexual orientation, sex stereotyping or pregnancy in admission to, participation in, or receipt of the services and benefits under any of its programs and activities, whether carried out by WTH directly or through a contractor or any other entity with which WTH arranges to carry out its programs and activities.
For further information about this policy, contact Amy Garner (731) 541-9914.