---
---
A Unique Approach to Therapy with Proven Results
Rein-Bow Riding Academy is a program that gives hope and changes lives. The Therapy & Learning Center uses hippotherapy & therapeutic horseback riding to allow individuals with varying abilities receive innovative therapy while riding a horse. The term hippotherapy comes from the Greek word hippos, meaning horse; thus, the term literally means treatment with the help of a horse. During a hippotherapy session, a specially trained therapist uses the horse as a therapeutic tool to achieve the client's therapy goals. Therapeutic riding is another form of therapy that allows riders to increase their emotional and social wellbeing with the goal of the rider controlling the horse on his or her own.
Hippotherapy benefits individuals with a variety of medical conditions such as: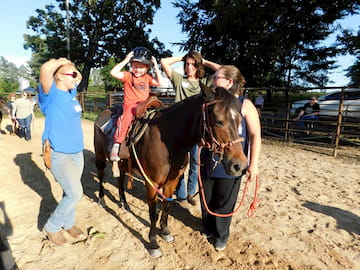 Cerebral Palsy
Abnormal muscle tone
Sensory Integration Disorders
Impaired coordination
Traumatic brain injury or stroke
Decreased mobility
Developmental delays
Impaired communication
Autism Spectrum Disorders
Impaired balance responses
Why the Horse?
The horse's walk provides sensory input through movement, which is variable, rhythmic, and repetitive. The resultant movement responses in the rider are similar to human movement patterns of the pelvis while walking. The variability of the horse's walk enables the therapist to grade the degree of sensory input to the rider, and then utilize this movement in combination with other treatment strategies to achieve desired results. Riders respond enthusiastically to this enjoyable experience in a natural setting. Hippotherapy benefits children and adults of all ages, and the ability to walk is not necessary to participate in the program.
Our daughter Violet has Dandy Walker Syndrome and has received various therapies since she was 4 months old (Developmental, PT, OT, Speech, Feeding, Vision, and Vestibular Rehab). We are grateful for this Hippotherapy program because it combines every single one of these therapies and Violet enjoys her sessions on the horses so much that she doesn't realize she's working hard and improving the brain functions that were damaged. It's also helping her socially and emotionally because she's interacting with the horse, volunteers, children, and therapists while having a great time. – Bridgett, mother to Violet who has been riding in the RRA for 4 years
Would you like more Information about Hippotherapy/Therapeutic Riding?
Please contact Barbara Meussner, Rein-Bow Riding Manager, at 731-664-3670 or email at barbara.meussner@wth.org 
Program Information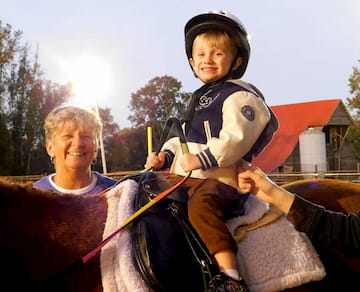 We believe in the quality and potential results of hippotherapy and therapeutic riding, and we are excited about your interest in our program!
Hippotherapy and therapeutic riding activities are provided at an arena in Huron, TN – just minutes from Lexington, TN. Riding sessions are 45 minutes, and held on Tuesdays from 4:15 p.m. – 8:00 p.m. The number of participants in the program is limited. We offer the choice of a Spring, Summer or Fall riding session. To qualify for consideration, applicants must be:
At least two years old
Have a diagnosis associated with developmental delay
Weigh no more than 200 pounds
Have no medical contradictions for equine (horse) therapy
If you're wondering about the cost of the program, we have some amazing news. Since many insurances do not see Hippotherapy and Therapeutic Riding as a billable service, it is our goal that the cost of riding would not inhibit children and adults from benefitting from our program. Currently, due to generous giving from community and individual sponsors, civic organization groups, as well as fundraisers (many organized by our own parents of the program), all riders can participate in Rein-Bow Riding Academy free of charge. The West Tennessee community believes in the immense growth physically, socially, and emotionally that our riders experience in each session.
Rider Application
To be considered for eligibility into our Rein-Bow Riding Academy,
please read and fill out the following information:
Parents will need to give the following forms to the applicant's physician to complete and return:
Volunteer Opportunities
Do you want to REALLY make a difference?
Volunteers are the heart and soul of the Rein-Bow Riding Academy program. Without volunteers available to safely assist the riders during their sessions, our children and adults would be unable to ride.
No special skills are required for volunteers as each person is trained by the program staff.
Volunteers must be at least 14 years of age and come with an enthusiastic, compassionate spirit ready to improve the lives of children and adults with special needs.
You may choose the times you are able to serve each Tuesday night.
You can join in at any part of the riding season.
Riding sessions are held on Tuesdays between 4:15 p.m. and 8:00 p.m.
Volunteer opportunities include the following:
Horse Leader
The leader is responsible for starting, guiding, and stopping the horse during the session while allowing the rider to do as much of the handling as possible. This volunteer should be at least 16 years of age with prior horse experience and be able to walk or jog intermittently during the 45 minute session.
Sidewalker
The sidewalker walks alongside the rider during a session and is responsible for the rider's safety. The degree of assistance will vary among riders with some requiring multiple sidewalkers. This volunteer must be at least 14 years old and be able to walk briskly or jog intermittently beside a horse for 45 minutes.
Ring and Arena Assistant
The assistant helps with preparation of the ring and equipment for the session, fits helmets on the riders, grooms horses, and supervises riders during grooming as well as before and after the session.
Ready to be a Rein-Bow Riding Academy Volunteer?
To become a volunteer, please complete the Volunteer Application below. You may bring it to the barn with you during a riding session or send it to the Center in advance. Please note that to insure the safety of our riders background checks will be administered on each volunteer and reviewed prior to participation in our program. If you are under the age of 18, please be sure to have your parent/guardian sign the necessary sections.
Volunteer Application— This form must be completed to serve as a volunteer for the program.
Volunteer training can be completed at the barn. However, to expedite the process, you may read through the Volunteer Manual.
Volunteer Manual — A guide for hippotherapy volunteers.
Ways to Help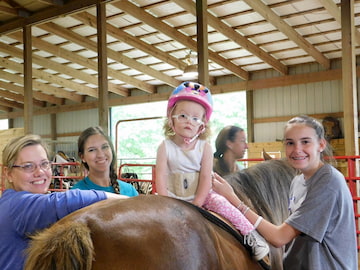 Caring for the horses, maintaining the riding facility, and the therapeutic sessions are costly. Thus, we rely heavily upon individual, corporate, and community support in order to maintain this worthwhile program.
Hippotherapy and Therapeutic Riding are two of the many programs offered by the Therapy & Learning Center. As a non-profit organization, financial contributions and in-kind donations are always welcomed. You can be a part of this successful, life-changing program. You may volunteer your time at our riding facility or you may choose to support our program with a financial gift.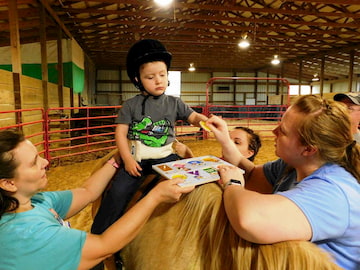 However, if your schedule doesn't allow you to give of your time, another crucial way you can help our program is by donating to help sponsor a child in riding sessions. Your tax deductible donation can be made in two different ways:
Give Online Select Rein-Bow Riding Academy Hippotherapy Fund in the drop-down box option.
Send a Check by Mail:
ATTN: Rein-Bow Riding Academy
32 Garland Drive
Jackson TN 38305.
** When donating, please note on your check that your gift is in support of the Rein-Bow Riding Academy.
Thank you for your support! For more information about our program or for ways you can help financially, call (731) 664-3670 or email barbara.meussner@wth.org.
---
NONDISCRIMINATION NOTICE STATEMENT
West Tennessee Healthcare (WTH) does not exclude, deny benefits to, or otherwise discriminate against any person on the grounds of race, color, national origin, age, religion, disability, Limited English Proficiency or sex, including discrimination based on gender identity, sexual orientation, sex stereotyping or pregnancy in admission to, participation in, or receipt of the services and benefits under any of its programs and activities, whether carried out by WTH directly or through a contractor or any other entity with which WTH arranges to carry out its programs and activities.
For further information about this policy, contact Amy Garner (731) 541-9914.