Pediatric Therapy Services
Questions? Call 731-664-3670 Our Locations
The Therapy & Learning Center provides pediatric physical therapy, occupational therapy, and speech therapy services as well as Hippotherapy & Therapeutic Horse Back Riding to children throughout West Tennessee. With decades of experience working with children and families, our dedicated staff works with every child to achieve his or her individualized goals. They incorporate a variety of fun, age appropriate activities into therapy sessions and are trained to be sensitive to the emotional, psychological, and physical needs of children. Families are welcomed and encouraged to be involved in therapy sessions.
---
Outpatient Clinic Therapy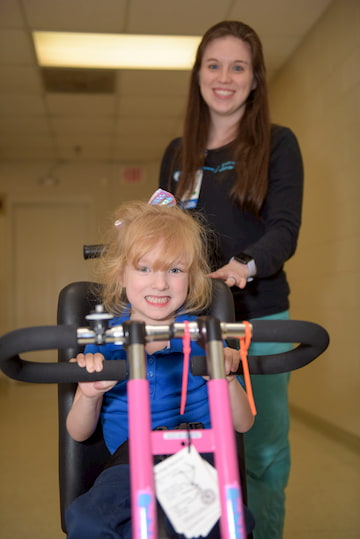 Our Center offers Outpatient PT, OT and Speech therapy services in our clinic located in Jackson, Tennessee with a wide variety of treatment options tailored to meet each child's needs and interests.

---
School System Based Therapy
The Therapy & Learning Center serves many school districts throughout West Tennessee to provide pediatric PT, OT and SLP services to students in accordance with Individualized Educational Plans (IEP). Our team of school-based therapists works with school staff to assist the child in meeting education goals and improve their overall educational development.
---
Hippotherapy & Therapeutic Horseback Riding Program
Our Rein-Bow Riding Academy is a program that gives hope and changes lives. The Therapy & Learning Center uses hippotherapy & therapeutic horseback riding to allow individuals with varying abilities receive innovative therapy while riding a horse. The term hippotherapy comes from the Greek word hippos, meaning horse; thus, the term literally means treatment with the help of a horse. During a hippotherapy session, a specially trained therapist uses the horse as a therapeutic tool to achieve the client's therapy goals. Therapeutic riding is another form of therapy that allows patients to increase their emotional and social wellbeing with the goal of the rider controlling the horse on his or her own.
---
Children That Can Benefit From Therapy
Pediatric therapy can be beneficial for children with many types of diagnoses and related areas of difficulty including: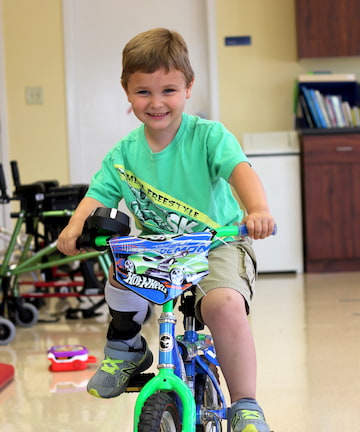 Autism spectrum disorder (ASD)
Attention deficit disorder (ADD, ADHD)
Developmental delays (motor, speech, language)
Neuromotor disorders (cerebral palsy, spina bifida, others)
Feeding difficulties (failure to thrive, fussy/picky eater, difficulty chewing or swallowing food)
Birth injuries
Congenital or chromosomal disorders (Down syndrome, Fragile X)
Traumatic brain injuries
Language disorders
Speech sound disorders
Auditory processing disorders
Fluency and stuttering
Voice disorders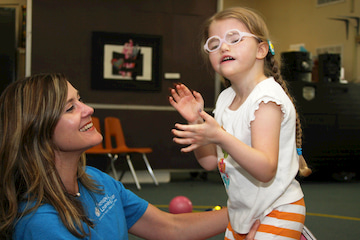 Torticollis and plagiocephaly
Toe walking
Coordination disorder
Sensory processing disorder
Difficulties with daily living skills
A collaborative, multi-disciplinary approach is important for most children. In order to provide the most comprehensive care possible, we work closely with Tennessee Early Intervention System (TEIS), early interventionists, local school districts, providers of orthotics and specialty equipment, and others like our TLC KIDS inclusive childcare program.
---
Referrals and Forms
Outpatient Clinic Therapy
Children are referred for outpatient therapy primarily by their physician (primary care or specialty) or the Tennessee Early Intervention System. Parents are welcome to contact us with any questions, and can then work with their physician directly about a referral. An order for therapy is needed along with an appropriate diagnosis. When a referral is received, we will gather necessary information, verify insurance benefits, and contact the parent/guardian to schedule an appointment. New patients will be seen for an evaluation to explore the child's strengths and needs, and determine if therapy services would be beneficial. If ongoing therapy is recommended, children will be scheduled appropriately.
Physician's offices can refer patients by using the Therapy & Learning Center Referral Form.
New patients will need to arrive for the first appointment 15 minutes early in order to register. New patient paperwork will be needed, and can be done at the first appointment or printed and filled out in advance. Each child's parent or legal guardian must complete the paperwork before we can see a child for the first visit.
School-Based Therapy
Students are referred for therapy services by their local school district staff in schools served by the Therapy & Learning Center. The discipline requested must be on the student's IEP, and the student's parent/guardian must complete referral forms. A physician's order for therapy services is also needed.
---
---
NONDISCRIMINATION NOTICE STATEMENT
West Tennessee Healthcare (WTH) does not exclude, deny benefits to, or otherwise discriminate against any person on the grounds of race, color, national origin, age, religion, disability, Limited English Proficiency or sex, including discrimination based on gender identity, sexual orientation, sex stereotyping or pregnancy in admission to, participation in, or receipt of the services and benefits under any of its programs and activities, whether carried out by WTH directly or through a contractor or any other entity with which WTH arranges to carry out its programs and activities.
For further information about this policy, contact Amy Garner (731) 541-9914.